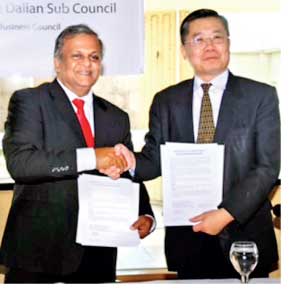 The 31st China Dalian Import and Export Commodities Fair 2017 will be the first event the International Business Council will participate in.

The Sri Lanka pavilion will display tea, handcraft and other Sri Lankan products. The International Business Council will promote Sri Lanka as an investment location and tourist destination for Chinese tourists.

The 31st China Dalian Import and Export Commodities Fair will be held from 11-14 May at the Dalian World Expo Center. Its sponsors are the China Council for the Promotion of International Trade Dalian Sub-Council and Dalian Chamber of International Commerce while the organiser is the Exhibition Company of the Dalian Chamber of International Commerce

Dalian, the most dynamic coastal city in North China, offers an opening to Northeast China. With the first natural harbour of North China, Dalian has opened up navigation with more than 150 countries and regions and has grown to be an important international shipping centre of northeast Asia. Dalian has a solid industrial foundation. It is an important base for petrochemicals, electronic information and software, equipment manufacturing and shipbuilding. With a well-developed business, trade, tourism and service industry, Dalian has been selected as the permanent city for Summer Davos.

The 2017 event will further promote cultural and economic exchange between Dalian and Europe, America, ASEAN, Russia, Japan, South Korea, Hong Kong, Macao and Taiwan.

An important platform for exchange and cooperation between manufacturers at home and abroad, the Dalian Import and Export Commodities Fair is the best way for enterprises to enter the Northeast China market.

The exhibition is being held on the theme of 'Making friends, promoting trade, exploring the market, cooperating and pursuing a win-win situation'. Its organisers said they welcomed friends both at home and abroad to the most beautiful coastal city in Northern China-Dalian, to seek business opportunities and mutual resplendence.