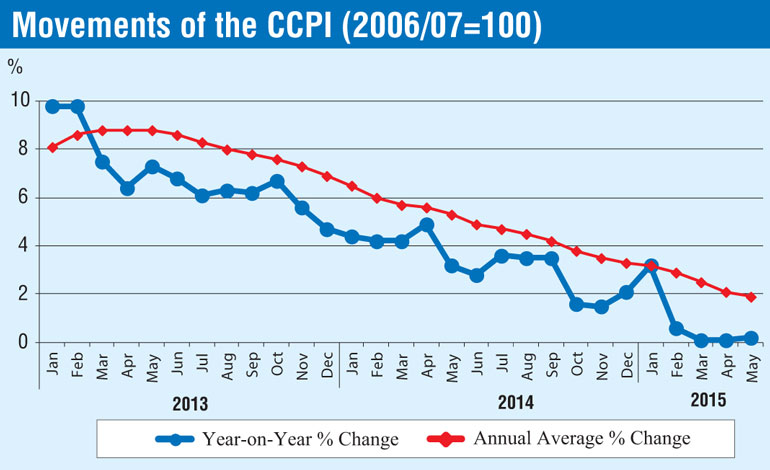 Inflation, as measured by the change in the Colombo Consumers' Price Index (CCPI) (2006/07=100), which is computed by the Department of Census and Statistics, increased marginally to 0.2%, on an year-on-year basis in May 2015, from 0.1% recorded in April 2015. Annual average inflation declined from 2.1% in April 2015 to 1.9% in May 2015.

CCPI increased by 0.7% from April to May 2015, which was mainly caused by the increase in food prices. Prices of many vegetable varieties, fresh fish and dried fish, big onion, lime and coconut increased during May 2015. However, prices of rice, sugar, Maldive fish and some varieties of fruits recorded decreases during the month.


Within the non-food category, prices in the sub categories of Miscellaneous Goods and Services; and Recreation and Culture increased, while all the other sub categories, namely, Clothing and Footwear; Housing, Water, Electricity, Gas and other Fuels; Furnishing, Household Equipment and Routine Household Maintenance; Health; Transport; Education and Communication remained unchanged during the month.


Core inflation, which reflects the underlying inflation in the economy, increased marginally to 2.6% in May 2015, from 2.4% in April 2015 on a year-on-year basis. Annual average core inflation remained unchanged at 2.9% in May, compared to April 2015.