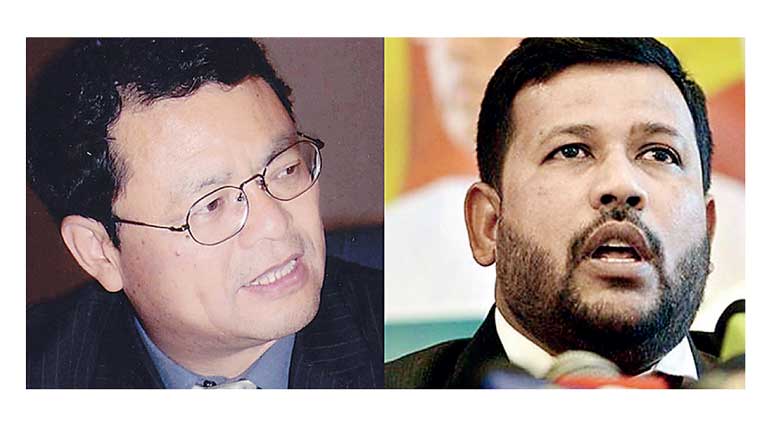 Industry and Commerce Minister Rishad Bathiudeen (right) and Director ILO Country Office for Sri Lanka and the Maldives Li Donglin
The first national initiative to provide Sri Lanka's Facebook generation with the spirit of entrepreneurship will be unveiled in Colombo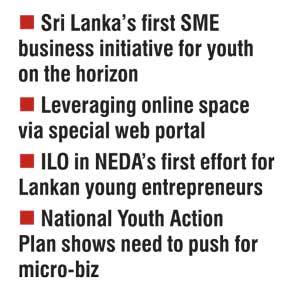 today.

A joint effort by the International Labour Organisation (ILO) and the National Enterprise Development Authority (NEDA) of Sri Lanka, the pioneering initiative leverages the surging online space for this novel effort through a youth business-oriented web portal.

The use of internet-based services in Sri Lanka reported steady growth in recent years and in 2014 the usage grew by 9%. The use of online services such as Facebook, YouTube, Viber, etc by Lankan youth is a key driver of this surge.

The new initiative 'Entrepreneurial Reawakening - Building a Better Tomorrow for the Lankan Entrepreneur', will be launched with ILO backing and will also see the launch of the 'Doing Business Guidebook', the 'Vyavasayakaya' newsletter as well as the special web portal for youth entrepreneurs of Sri Lanka.

Director of the ILO Country Office for Sri Lanka and the Maldives Li Donglin is scheduled to address the event joined by Industry and Commerce Minister Rishad Bathiudeen and Industry and Commerce State Minister Champika Premadasa.

NEDA under the Ministry of Industry and Commerce, realising only a few youth are aware of its services related to entrepreneurial culture, has pioneered the online platform with the technical and financial support of the ILO to provide up to date information for existing and future young entrepreneurs in three languages while enabling it to function as a one-stop online shop to collect and exchange information and business support services for Lankan youth.

The Sri Lanka National Youth Employment Action Plan formulated with the support of ILO has recently identified the need to address support to youth entrepreneurship by targeting micro enterprises.