The COYLE-Sampath Bank Chairman's Forum on Thursday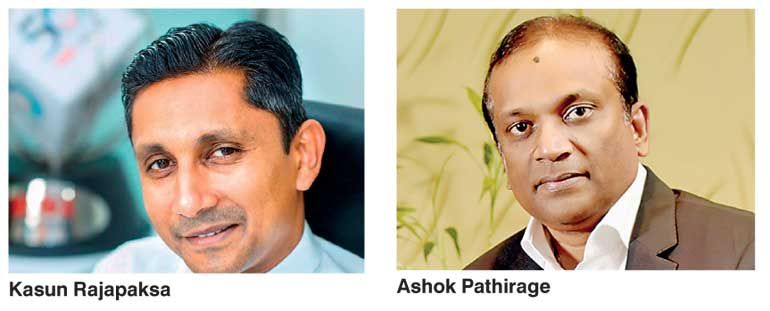 Island Life. This is an ambiguous term which locals and foreigners use to depict the social culture of Sri Lanka. For a progressive nation that continually challenges international criterion, the intelligence, innovation and drive of the people are rarely shown the acknowledgement they deserve.

While many other nations depend heavily on international assistance to jumpstart their economies, Sri Lanka has continually grown on its own; through its own hands, through its own people and through its own stories.

During the years of the war, Sri Lanka continually posted growth in its GDP year after year. During the country's most trying times, local companies heavily contributed to the world through their innovation. The definition of Sri Lanka isn't a place of 'Island Life' but rather the country is the definition of self-belief and drive.

The term 'I AM' is arguably the most powerful term in human psychology as it exemplifies what we believe to be true in terms of our own potential. Mental weakness is detrimental by destroying dreams. Meanwhile, conviction enables us to overcome all adversities that are present. As humans, our thoughts can hypnotise our actions, whether we're consciously aware of them or not.

There will always be things that will make us, break us and rejuvenate us. Support systems and having the encouragement of others are also important in assisting us in overcoming adversity. However, the only thing that can make or break the outcome is how strong our will is.

We're always fast to criticise before we congratulate. The political and business leaders in Sri Lanka today survived a prolonged civil conflict which didn't break their spirits or resolve to move the country to the next stage where there's peace and opportunity for the next generation. Now it's time for the next generation to deliberate on its contribution to ensure that Sri Lanka remains progressive.


COYLE-Sampath Bank Chairman's Forum
"The COYLE-Sampath Bank Chairman's Forum's 'I AM' theme this year is an acknowledgement of the determination of the Sri Lankan spirit," explains Chamber of Young Lankan Entrepreneur's Chairman Kasun Rajapaksa.

"The forum has always been about inspiring future leaders, the youth and entrepreneurs through stories of the most successful leaders. This year though we wanted to take what the forum is about and inspire the community to positively define themselves and their dreams to remind them that anything is possible."

Oftentimes when we look at icons, their presence of success in their businesses makes us forget that success doesn't happen overnight. The line-up of speakers for the COYLE-Sampath Bank Chairman's Forum this year is Ashok Pathirage of Softlogic Holdings, Nayana Dehigama of the Epic Technology Group and Dulith Hearath of Kapruka, with the keynote speech being delivered by Jayanthi Kuru-Utumpala and Johann Peris. All of these individuals are iconic in their own right. However, the stories of their hardships in building their companies and brands are often lost in the stature of how prominent the individuals are today.

"Believing in yourself strongly enough to risk everything to build your dream from the ground up is something that is frightening, yet rewarding in so many ways," explains Chairman Rajapaksa.

"Entrepreneurship is the essence of COYLE and it's what we, the Chamber, believe will be the key in pushing Sri Lanka to its next economic stage. However, entrepreneurship isn't about building the next largest publicly-listed company; it's about igniting the flame inside that inspires you to wake up with a smile each day, despite the challenges. Maybe that flame is pushing you to start a car service, bakery, school, non-profit organisation, to play cricket, climb Mount Everest or set up a corporation. The most important thing is letting the spark grow and not allowing it to grow dull."

In the last few years social acceptance of entrepreneurship has continually grown as the business community and Government have both created initiatives to assist the youth and professionals to bring what is inside their minds into reality.

"It's great to see that there's a push for new businesses to form in the country and many individuals are beginning to take that leap of faith to build a brand that's their own," explains Rajapaksa.

"To continue to foster this environment for the country, not only does the Government have a responsibility to implement policies which will help the SMEs thrive but private sector leaders have a responsibility to empower the next generation of business leaders by becoming a resource."

Hierarchy stigmas often make top business leaders seem inaccessible. Although entrepreneurs have a 'figure it out as we go' mindset that enables them to build companies and brands that are the best fit for their markets, guidance through mentorship is an invaluable asset that can propel any company.

"One of the things which makes the COYLE-Sampath Bank Chairman's Forum unique is that throughout the event, attendees have access to over 100 Managing Directors and majority shareholders of some of Sri Lanka's top companies," explains Rajapaksa.

"We don't want attendees to just come and listen to speeches. We're giving students and the general public a platform to come and network with these top leaders in the hope that they'll find inspiration and a potential mentor who can assist them in shaping their goals to achieve their dreams."


Aiding entrepreneurship
As Sri Lanka begins to motivate its citizens to stand up and build their dreams, it becomes vital for the infrastructure of this movement to be in place to drive opportunity. The fractures in processes when it comes to obtaining permits, getting financing and overall business setups deter individuals from moving forward with their business plans. The Government's responsibility in protecting Sri Lankan entrepreneurs by easing regulations and creating assistance programs alongside the private sector to help cultivate a business-friendly environment is now vital for the country.

"Entrepreneurship infrastructure is something that the country is still struggling with and COYLE is trying to push to develop," explains Chairman Rajapaksa.

"Sri Lanka needs an effective National Trade Policy; the urgency of activating anti-dumping measures and the introduction of single regulatory mechanism for foreign investments that safeguard local entrepreneurs. The protection of our Sri Lankan-rooted businesses is imperative if we, as a country, expect to brand our companies, products and services in the international playground. A part of this is that the Government needs to relax taxes on local companies, including venture capital firms that are investing in new startups. Even development banks in Sri Lanka have turned into personal banks where responsibility towards entrepreneur development funding has reduced. On the other hand the citizens of the country also have a role to play to safeguard and appreciate the efforts of local talent of Sri Lankan entrepreneurs."

In Sri Lanka's current state, the country can either propel itself to the next level through a centralised private-public initiative or remain in economic limbo. Continuous talks, bashing, and debates don't create change or foster growth if actionable itineraries aren't implemented. The Government has a role, corporates have a role and the future generation has a role. This is a moment in history in which the country must muster its self-belief to ignite its economic development.

"COYLE encourages Sri Lankans to take their ideas and turn them into real life products," states Rajapaksa. "The Chamber encourages individuals to build their enterprises to add value to the country and the economy. There's a push for the youth to take charge of their lives. It's also important to push professionals to improve themselves, to follow their dreams and to really contemplate career sessions. Nothing changes if we don't challenge the status quo. Our beautiful island will never move forward if you don't believe in yourself."