From left: Verite Research, Research Director Subhashini Abeysinghe, Group Relations Asia A.P. Moller-Maersk Group Senior Director Julian Michael Bevis, Moderator Keerthi Gunawardane, Global Alliance for Trade Facilitation Trade Expert and Senior Advisor Eric T. Miller and Global Alliance for Trade Facilitation, Head Customs and Trade Facilitation International Chamber of Commerce Vice President Donia Hammami


by 14.5%' - Hammami

The biggest-ever public private partnership (PPP) effort in recent history enlisting Sri Lankan exports and its private sector surfaced yesterday in Colombo and called for the highest political will to move forward. Crucially, a massive international support wave too has been hinted for Sri Lanka's TFA implementation via global agencies, including the World Bank.

"The highest Sri Lankan political will should be there to succeed in this. We are talking win-win here since both the Government and the business sector are talking about the same goal," said Global Alliance for Trade Facilitation Vice President Donia Hammami yesterday in Colombo.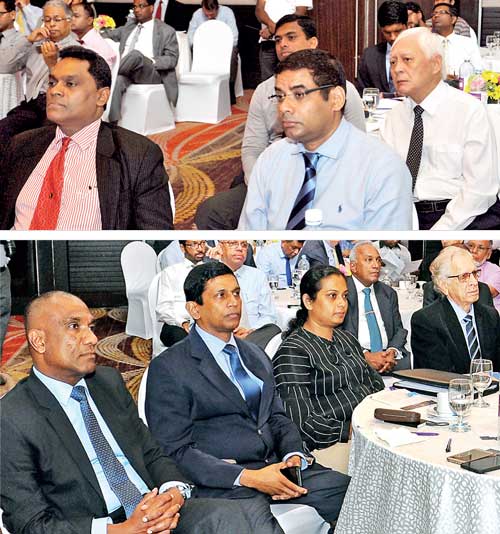 Hammami was addressing the launch of Sri Lanka's first-ever country session for its exporters and businesses on the historic WTO Trade Facilitation Agreement (TFA) jointly steered by GATF and the International Chamber of Commerce Sri Lanka. Hammami leads ICC policy work in Customs and Trade Facilitation at the International Chamber of Commerce (ICC), the world's largest business organisation with a network of over six million members in more than 100 countries. Industry and Commerce Minister Rishad Bathiudeen, with International Chamber of Commerce Sri Lanka Chairman Keerthi Gunawardane, led the Sri Lankan side at this event.

Hammami elaborated on the PPP for trade-led growth. "As for this TFA, we are talking of a common sense package that will reduce trade costs for WTO members by as much as 14.5%, boost exports up to $ 730 billion, 20 million new jobs across the world, and greater impact on global GDP. As for Sri Lanka, TFA does not focus on quotas and tariff but simplifying procedures and removing inefficiencies. TFA also supports SMEs due to simplified border procedures and trade procedures. These simplifications can boost SME's trade by as much as 80%. Sri Lanka has some advantageous trade processing speed among South Asian countries, for example 72 hours' time to import, but when we compare with leading economies such as Singapore, Sri Lanka is still at the bottom. Therefore Sri Lanka's TFA commitment is a great step forward. After a two years' grace period, Sri Lanka's Category A type of commitments should be in the best shape. Lots of capacity building support will be made available to Sri Lanka in this TFA effort, and the majority of such support from us is focused on Sri Lanka Customs at this moment. The highest Sri Lankan political will should be there to succeed in this."

Calling for Lankan private sector enlistment in the venture, she said: "The Lankan business community has a key role since they know the Sri Lankan situation best. As the private sector, you must make sure your voice is heard in these TFA efforts. This agenda is worth your time and effort. It's a one-time-in-life opportunity. The Sri Lankan TFA Secretariat will do the groundwork. Sri Lanka has notified Category A Commitments but it needs to work on Category B and C Commitments. These categories need to be focused on. We await Sri Lanka's confirmation in this."

Addressing the event, Minister Bathiudeen thanked WTO for its ongoing support of Sri Lanka. "I am happy to mention that under the leadership of my ministry, the Department of Commerce, as the focal point, made the necessary arrangements for Sri Lanka to ratify the TFA Agreement and establish the National Trade Facilitation Committee as early as in March 2016," he said.

"Our way forward is to include early establishment of a resourceful Secretariat of the National Trade Facilitation Committee (NTFC) to lead reforms which are an essential to ongoing trade liberalisation efforts," he added.

"In fact this can strengthen our Ease of Doing Business rankings and more importantly can bring down export costs significantly. This facility is even now on the verge of being established with the assistance of the World Bank. Early approval of the new Customs Act shall also strengthen the trade facilitation reforms expected under the TFA. Donor assistance is a vital part of the implementation of Category C measures. We are grateful to the World Bank Group for being the principal coordinator of TFA implementation in SL. ITC will focus on strengthening NTFC and its Secretariat. It is important to avoid duplication of effort by many international agencies in order to achieve the targets with tangible outcomes. International agencies and donor countries can focus on necessary infrastructure developments in small economies such as Sri Lanka to ensure a productive outcome of the implementation of the TFA. I welcome the support of International Chamber of Commerce of Sri Lanka and the Global Alliance for Trade Facilitation to strengthen our understanding of the WTO Trade Facilitation Agreement through this pioneering session."

International Chamber of Commerce Sri Lanka Chairman Keerthi Gunawardane thanked GATF for its support for the Lankan business sector, saying, "TFA is a great opportunity for our international trade."

The World Trade Organisation's Trade Facilitation Agreement (TFA), agreed in 2013, was the first multilateral trade agreement since the creation of the WTO in 1995. It came into force this February. The TFA was accepted by 112 member countries including Sri Lanka. Sri Lanka is among the WTO members that readily accepted the TFA.
Pix by Ruwan Walpola