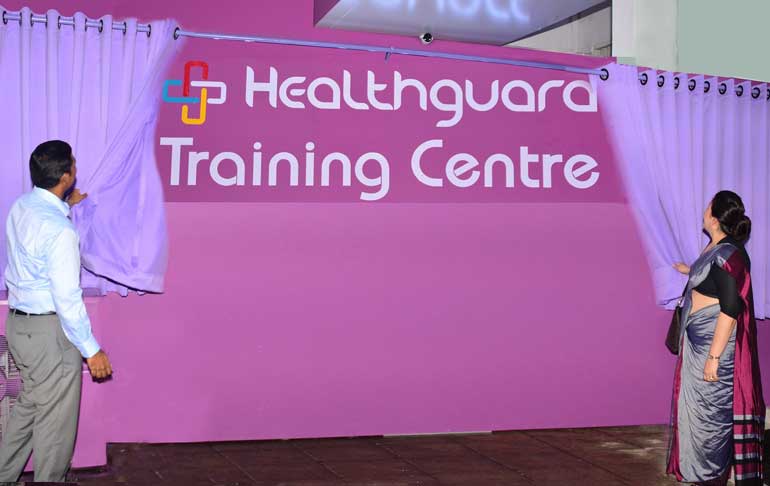 Members of the Healthguard team at the opening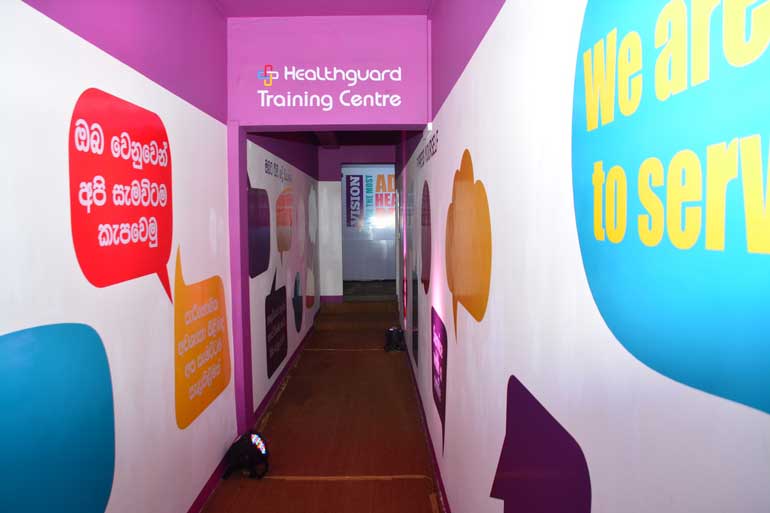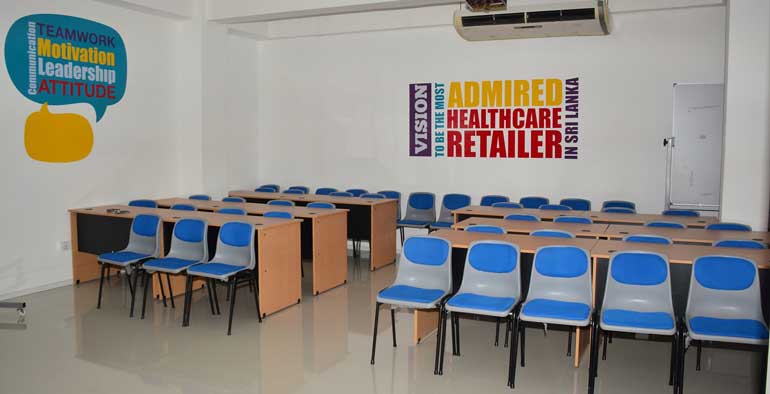 From left: Sunshine Healthcare Lanka (SHL) Managing Director Shyam Sathasivam and Sunshine Holdings PLC Group Head of Human Resources Michelle Senanayake opening the Healthguard Training Centre
Healthguard, the country's premier urban pharma, wellness and beauty retail chain, has taken a significant step towards achieving its vision of becoming the country's 'Most preferred employer in the pharma sector' with the opening of a centre dedicated for the training of its employees.

The opening of the Healthguard Training Centre is expected to set a new benchmark in the training and development initiatives of Healthguard – a subsidiary of Sunshine Healthcare Lanka Ltd. (SHL) and a member of the diversified Sunshine Holdings conglomerate.

While placing strong emphasis on further enhancing the competencies of its pharmacists, Healthguard seeks to go further, focusing on many other key aspects as well, via the centre. By providing in-depth training on customer relationship building, after sales service, retail marketing etc., the company aims to become the first healthcare retailer in Sri Lanka to provide a service of an international standard.

Over 160 staff members of the company will undergo regular training delivered by professional trainers and senior in-house specialists at the Healthguard Training Centre located at 415, Galle Road, Colombo 3. In addition to training facilities, the centre is equipped with a library, lunch rooms etc. and over 60 people can be accommodated at the location at once.

The opening of the training centre elevates and complements the existing training and development initiatives of the company. At present Healthguard offers a free external pharmacy course with practical training for candidates keen in embarking on a successful career in the pharma industry and education loans.

"The opening of the Healthguard Training Centre reflects Healthguard's as well as the Sunshine Holdings Group's emphasis on the continuous growth and enhancement of the competencies of our staff," Sunshine Holdings PLC Group Head of Human Resources Michelle Senanayake said at the opening of the centre. "The significance of this initiative extends beyond the organisation to the industry, considering the need at the national level for the further training of healthcare retail staff – particularly pharmacists."

"With many of our employees being members of 'Generation Y', it is important for the Human Resource function to understand and fulfil their distinct needs and aspirations," she said further. "It is also vital to develop the competencies required to meet the expectations of today's discerning consumers."

The opening of the training centre is part of Healthguard's Human Resource strategy and responds to a number of needs – including the dearth of qualified pharmacists in the country.

The Sunshine Holdings Group strongly focuses on creating a culture conducive for employee growth and development. It encourages staff to obtain recognised professional qualifications. All employees across the Group companies participate in a two-way appraisal process through which performance targets and measures are agreed upon and monitored. Sunshine Holdings recognises and rewards employees and teams who have contributed individually and collectively towards business excellence.