Management Team of hSenid Business Solutions
---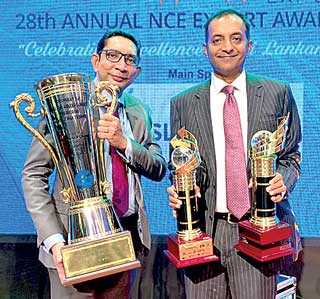 CEO Sampath Jayasundara and Chairman Dinesh Saparamadu
---
The 28th Annual Export Awards 2020 of the National Chamber of Exporters of Sri Lanka (NCE) was held on 25th February at the Shangri-La Hotel, Colombo.

The annual NCE Export Awards, organised by the NCE, the only chamber exclusively serving the exporter community, acknowledges the nation's outstanding export industry players and celebrates their valuable role towards the industry and national economy.
hSenid Business Solutions was honoured with three awards, the prestigious Most Outstanding SME Exporter Award, Gold Award for ICT and BPO-related Services (Medium category) and Deshabandu Patrick Amarasignghe Challenge Trophy at the 28th Annual Export Awards 2020 of the NCE.
"The Exporter of the Year award is a testament to the true success of our global reach in Africa, Middle East and Asia Pacific. We continue to grow within these regions competing with global leaders, despite the unprecedented challenges which came our way. We look forward to expanding our influence within the global industry for years to come,'' said hSenid Group of Companies Founder/Chairman Dinesh Saparamadu.

Striving to keep up as an indigenous multinational, hSenid Business Solutions takes the responsibility of taking care of over one million users in 1,300 organisations across 18 industries in operating from Australia, Bangladesh, India, Kenya, Singapore and Sri Lanka. "We will continue our journey to take Sri Lanka forward to the global marketplace. Our solutions have reached across 40 countries so far and these awards are a strength to our exponential growth during last couple of years," mentioned hSenid Business Solutions CEO Sampath Jayasundara.

"This would not have been possible without our prestigious clients and our biggest asset, 'our employees'. I would like to take this opportunity to thank all our stakeholders for having trust and confidence in us throughout the years," he further stated.

hSenid's journey has been resilient with its evolving platform adding value to clients each day, focusing on the best practices and tools. This has led hSenid build PeoplesHR into a premium HRIS and is recognised as a global brand today with many value additions, including dashboards, chatbot, mobile app and marketplace.