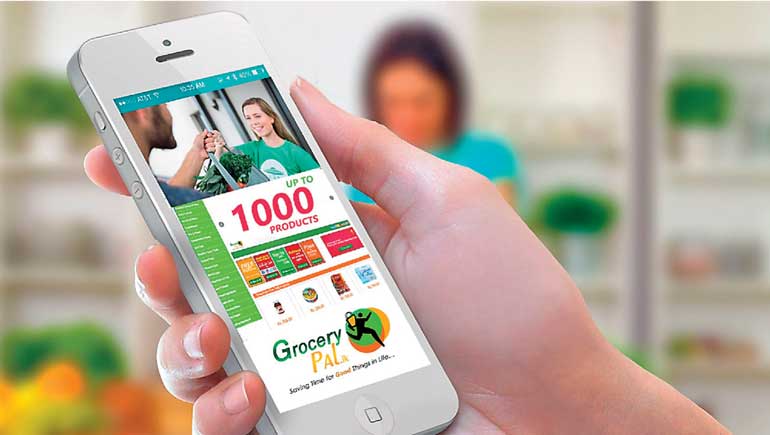 The recently-launched GroceryPal.lk, with its young dynamic team, is setting new standards in the local online retailing space, with added features, expanded product portfolio and some exciting promotions.

Starting with the 'Colombo Office Run' to 'Personal Shopper' and 'Standing Orders' to 'Snap and Upload' a number of fantastic features have been added to the site for shopper convenience, setting it apart from the conventional e-ecommerce sites.

Team Head of GroceryPal.lk, Muditha Thebuwana commented: "We all know how difficult it is to strike a work-life balance in today's hectic world or to juggle family responsibilities and household workload. Although we all like to spend time with family and friends, take time out for ourselves or engage in community work, we are increasingly restricted due to time constraints. Therefore, imagine saving two to four hours from your schedule each week by having your grocery shopping taken off your responsibility list."

"Although online grocery shopping is still new in Sri Lanka, this is a well-established concept in Western countries. The trend is catching up even in our neighbouring India. In time to come, this would be a common platform for grocery shopping even in Sri Lanka, and we want to make sure we are part of that pioneering phase," he added.

All orders at GroceryPal.lk are delivered within two hours or less within the delivery grid, which currently stretches across Colombo 1 to 15 and the surrounding suburbs up to Wattala, Kelaniya, Malabe, Kottawa and Mt. Lavinia. The site charges a flat delivery fee of Rs. 250, while it is waived off for orders worth over Rs. 5,000. In addition, the Colombo Office Run features offers free delivery for all orders worth over Rs. 3,500 to any office block in Colombo.

This latest e-supermarket carries over 3,000 products across 25 different product categories. Further, the site offers organic vegetables from Saraketha, a reputed organic vegetable supplier. Paan Paan, known for healthy baked goods, is also on board GroceryPal, offering customers a range of freshly baked products.

Speaking on the latest features, Thebuwana explained, "Our theme is 'Saving Time for Good Things in Life'. Therefore, we wanted to make sure that we deliver that promise to our customers. Each special feature is geared to address everyday challenges faced by our potential customers and make their lives easier.

"For instance, the Standing Order feature is ideal for those who wish to send out a grocery pack to a loved one. You can place your orders from abroad and these orders can be scheduled daily, weekly, monthly or on selected days across the year. You can select multiple delivery dates at the same time. All this can be done on one page within www.grocerypal.lk."

'Shop for Me' is another major value addition to shoppers who are unfamiliar with e-shopping or may not have the time to select and click on 50 to 60 items in a weekly grocery list. It allows customers to send in grocery lists, so the GroceryPal team can shop and deliver on their behalf. Customers can send their shopping list by typing and uploading it to the site or by taking a photo and sending it via Viber or WhatsApp.

GroceryPal also accepts shopping lists through 55 66 888 for added convenience. "When we were exploring the need for online grocery shopping, we identified specific customer segments, such as senior citizens, that needed such services due to mobility issues, while they also lacked familiarity with online shopping. This is why we decided that we need to offer facilities that can help such customer groups so that they are able to enjoy the benefits of online grocery shopping and doorstep delivery," Thebuwana elaborated.

All products are handpicked by the GroceryPal team to ensure quality and are delivered in a handy, eco-friendly recyclable bag by the site's courier partner within two hours. Customers can also specify the preferred time of delivery.

GroceryPal is owned and managed by Lfinity Ltd., a subsidiary of LAUGFS Holdings. LAUGFS is one of the largest diversified business conglomerates and a trusted name in Sri Lanka.