Singer Sri Lanka has begun its 2015 financial year on a good note with consolidated revenues growing by 28% over the corresponding period last year to reach Rs.8.6 billion according to recently announced first quarter financial results.

The group's net profit for the quarter grew to Rs. 277.8 million, which is an impressive increase of 95% when compared with the previous year.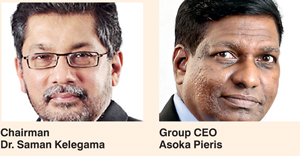 In his review of the quarter's performance, Group Chief Executive Officer Asoka Pieris noted that an improvement in the overall business environment in the fourth quarter of 2014 continued into the New Year, contributing to the growth trajectory. Several strategic initiatives taken by the group including investing in new shops, dealers and channels of distribution and the introduction of new brands and products has contributed to this outstanding performance.

The group's Q1 revenues were bolstered by its third largest segment, communication and digital media, whose revenue for the quarter rose 88%. The transportation segment performed below expectations but all other sectors experienced significant growth. Its agro segment grew by 44%, and both sewing and kitchen-related products recorded a 33% growth while white goods, electronics and furniture improved by 16% each.

Contributing to the group's Q1 results was its public listed subsidiary Singer Finance (Lanka) PLC, recording solid growth, with revenue increasing by 3% and net profit increasing by 91%. Growth in business volumes helped negate the reduction in lending rates. The remarkable success and revenue contribution of the company's new subsidiary, Singer Digital Media Ltd., specialising in the sale of mobile phones and computers to the trade channel, towards Q1 financial performance is noteworthy. The subsidiary recorded impressive revenue to external parties of Rs. 709 million.

While noting the buoyant performance and increased profits for Q1, CEO Asoka Pieris reminded shareholders that profits remained below levels attained in 2012, which was the highest profit ever recorded by the group in its first quarter. The company remains confident of its position as the nation's retail giant in consumer durables, continuously engaging in enhancing its world class brands and product portfolio offering.