'We are here for the long term' - Shale
'Partner with us for Expo 2016' - Rishad
​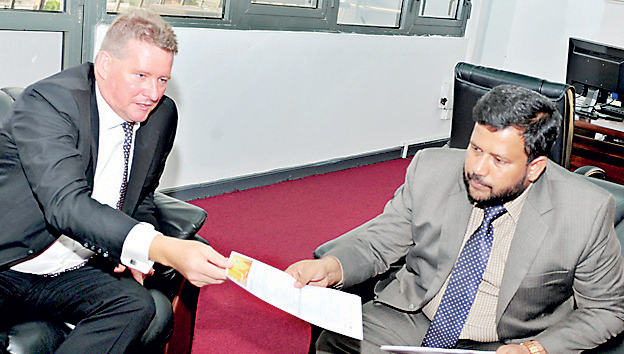 ​
Sri Lanka has secured the attention of one of the largest global banking-investment media and confab institutions for the first time and its benchmark global investment publication is ready to start off its Lankan experience with an international investors' conference to be held in Colombo.

"This is the first time that we, the Euromoney Magazine, will be holding an investor confab of such a scale in Sri Lanka. We just don't want to hold a one-off confab and leave but we are looking for long-term engagement in Sri Lanka. We will also be honoured and delighted to partner with the 2016 May Expo Fair in Sri Lanka," said Tony Shale, CEO-Asia of Euromoney Institutional Investor on 12 May.

Shale was speaking to Industry and Commerce Minister Rishad Bathiudeen on 12 May at the EDB.

"We are listed on the London Stock Exchange with a market cap of $ 3 billion. We are present in 120 locations around the world. Euromoney championed the global capital market and its growth and became the prime magazine of the wholesale financial world, its institutions and its users. We are at higher levels of investment-very much at B2B levels, as well as research and international conferences and symposia," said Shale.

"We are looking at holding an investment conference and in principle agreed to hold the global conference in Colombo this September. Euromoney is looking to bring 250 members of the global financial and investment community to this event and another 250 from Sri Lanka. We are here to extend out invite to you to take part in this one-day Global Investment Forum Sri Lanka 2015 event. Our global investors are very keen over Sri Lanka and are pushing us to hold the investor confab in Colombo sooner rather than later," he added.

"Even though September could be a tight time for Sri Lanka, the international investors too would like to be here around that time before the end-of-year season arrives. We are inviting investors across the globe in all asset classes. We have 100s of niche investment titles and verticals and relevant sectors could be chosen starting with September's event."

"We continue to attract investors thanks to the vision of President Maithripala Sirisena and I am confident that Euromoney's arrival will enhance our international investment profile," Minister Bathiudeen said.

"Industry and Commerce Ministry officials are ready to extend their fullest support to Euromoney. We are also planning to hold our global export exposition called Expo 2016 in Colombo and we are planning to expand the expo series to showcase our investment side too. We invite you to partner with us and take the lead in our investor expo in 2016 show," the Minister added.

"We are delighted to partner with the Investment Showcase of Expo 2016 and feel honoured. We bring the interest of a powerful reader database as well as investors across the globe in all asset classes to this event."

Created in 1969, Euromoney magazine started covering the reemergence of international cross-border capital markets and today has a 12 million strong readership across the global investment world.