First major private sector funded training facility for dairy farmers in Sri Lanka
Aims to help Sri Lankan farmers develop most efficient system for the local environment
Sri Lanka is one of the most important markets, says Fonterra Chairman
By Charumini de Silva

Fonterra's first Sri Lankan demonstration and training farm in Pannala was officially launched yesterday by New Zealand Prime Minister John Key in an effort to boost the country's dairy industry.

The Rs.117 million farm is the first major private sector funded training facility for dairy farming in Sri Lanka which will focus on helping farmers improve milk quality and operate their farming businesses more effectively as well as profitably.

"The Government of New Zealand is building partnerships with countries where Fonterra is operating and Sri Lanka is a great example of that. With partnerships of this nature we can assure job opportunities and thereby support to build your own dairy sector," New Zealand Prime Minister John Key said at the ceremony at which Sustainable Development and Wildlife Minister Gamini Jayawickrama Perera was also present.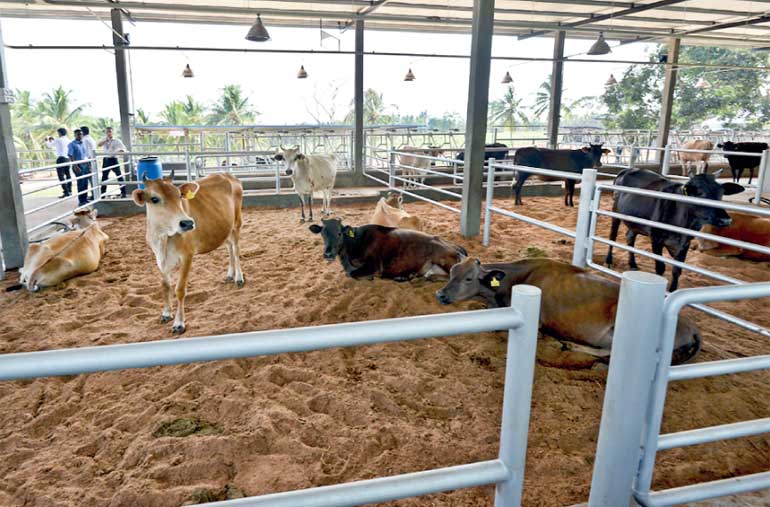 The FBSL farm


Noting that it was his second visit to Sri Lanka he asserted that the country has grown in a visible way. "The President, Prime Minister and the Government of Sri Lanka are very optimistic about your future and how prosperous and successful this venture can be," he told the approximately 300 local community representatives who attended the event.

He said Fonterra is the largest company in New Zealand and accounts for a significant part of the country's exports.

Outlining Fonterra's strategy Key noted that they develop production in different locations where they operate and that Sri Lanka was an important market for them.

"Transfer of knowledge, expertise and know - how is essential to develop dairy industry and with this venture we hope that Sri Lanka would benefit greatly," he said.

Fonterra Chairman John Wilson said a supportive policy environment from the Government is important for them to execute business and development of the dairy industry in Sri Lanka.

He pointed out that Sri Lanka is one of the most important markets and opening of this farm will make a huge impact in the country's dairy industry.

"I'm a third generation farmer and I know firsthand how important it is to have training to have a strong dairy industry. We believe in collaboration and sharing expertise: this is central to our co-operative structure and how we have made Fonterra what it is today," he explained.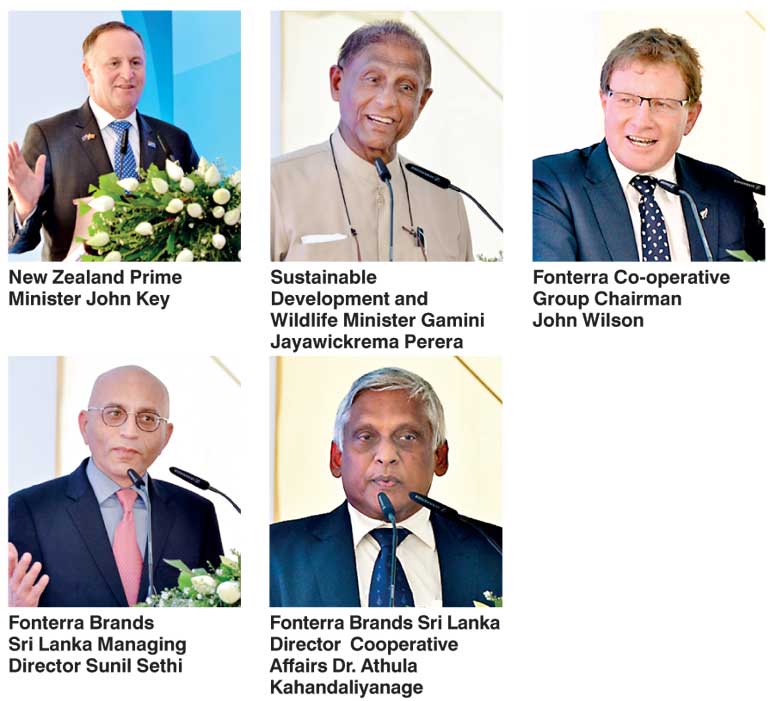 Wilson said New Zealand farmers recognised earlier on that 'we are stronger when we work together, share ideas, resources and try new things'. Hence they want this approach of farmers supporting farmers to be introduced to Sri Lanka.

"Fonterra has a long history in Sri Lanka and generations have grown with the Anchor brand. We hope this relationship is where we can make a real difference," he stressed.

To support the training facility, four New Zealand based Fonterra farmers will travel to Sri Lanka between May and July this year with each one spending a month at the farm to provide hands-on training and advice.

Fonterra Brands Sri Lanka Managing Director Sunil Sethi said; "We recognise that different countries and climates require tailored approaches to deliver the best results for the local dairy industry. With our generations of expertise, we believe we are well placed to help Sri Lankan farmers develop the best, most efficient system for the local climate and environment."

He asserted that if they could get the right level of support from the Government, industry bodies and community organisations they would be able to continue to invest in additional training farms of the nature, thus increasing their on-the-ground training expertise and investing in other infrastructure such as milk chilling centers.

The facility will train around 2,000 farmers, with 180 days dedicated to training. The farm will include a milk shed, training centre, barns, milk chilling facilities and feed growth areas.

Fonterra Brands Sri Lanka has been operating for the past 38 years with investment of over Rs.380 million in local dairy development during the past two years alone and is committed to working with partners to increase milk collection, improve milk quality and uplift farmer incomes.

Fonterra Brands Sri Lanka will continue to scale up its investment in the country's dairy industry with plans to increase its current network of Supplier Relationship Officers (SROs) to 40, and to build an additional three demonstration and training farms by 2017.

Sustainable Development and Wildlife Minister Gamini Jayawickrama, Haringey Fernando, Sarvodaya Chairman A.T Ariyaratne, the New Zealand High Commissioner to India and Sri Lanka Grahame Morton, and a New Zealand Business delegation also attended the event.

Pix by Daminda Harsha