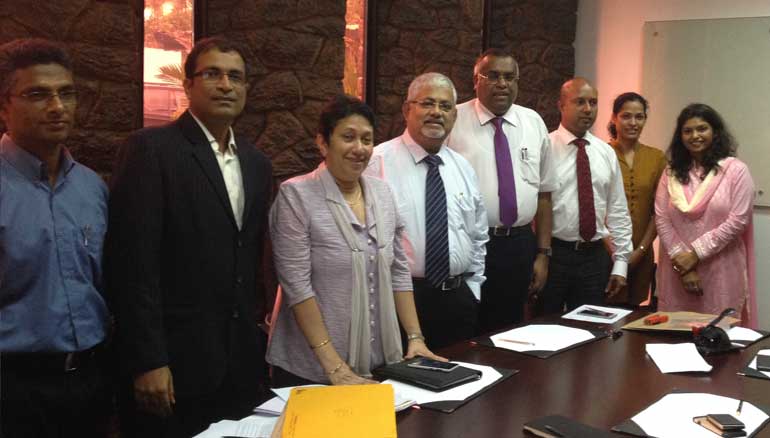 Directors of CIC Holdings with directors and team of Pidilite Lanka after signing the agreement
Pidilite Lanka Ltd. recently acquired the PVAC Adhesive business, associated trademarks such as Chemifix and others, and associated commercial and technical knowhow from CIC Holdings Plc.

CIC holdings Plc will continue manufacturing a range of products for Pidilite Lanka under a tolling agreement. As part of strategic tie-up, CIC Holdings Plc will also distribute the stationery range of products to the FMCG and stationery channel.

Pidilite Lanka is well-equipped to lead Chemifix to a new level of success, thanks to the successful JV partnership between Pidilite International Ltd, Pidilite Middle East Ltd. and Macbertan Holdings Ltd. Both Pidilite and Macbertan will provide their expertise to Pidilite Lanka Ltd. which will be responsible for the manufacture and distribution of popular, nationally-respected brands.

Pidilite's flagship brand is the popular adhesive, Fevicol, while Macbertan counts McFoil as one of its many reliable products.

Pidilite is amongst the largest adhesive manufacturers in Asia with manufacturing facilities in India, Bangladesh, Egypt, Thailand, Brazil, the US and UAE. Macbertan is a leading distribution company in Sri Lanka with sub-distributors and dealers nationwide.

Chemifix is a market leader in PVAC Adhesives and a household name in Sri Lanka. With this acquisition Pidilite Lanka will now have the required scale to expand its presence significantly in the adhesives, consumer adhesives and sealants market in Sri Lanka. Pidilite Lanka will leverage the marketing and technical knowhow of Pidilite to further expand into construction chemicals and other allied fields in Sri Lanka.

After the formalisation of the contract with CIC, the directors of Pidilite Lanka, Manab Ghosh and Ramani Ponnambalam, stated that the technical and market expertise of the joint venture company will add significant value to their already successful business.