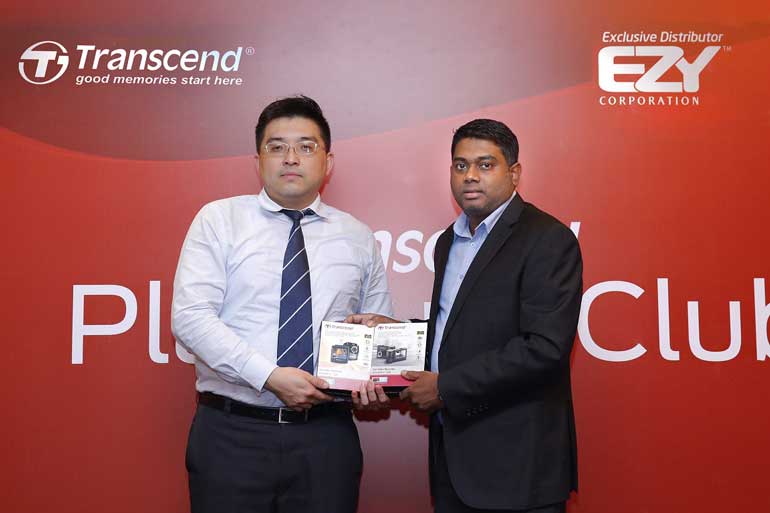 Regional Head of South Asia at Transcend Information Inc. Hugo Lee and Assistant General Manager, Technology and Consumer Products, EZY Distribution Prabath Navaratna
Sri Lanka's Premier Technology Distribution company EZY Distribution, together with Transcend, launched a range of Car Video Recorders to spearhead road safety across the country.

EZY Distribution is a subsidiary of EZY Corporation, a $ 500 million, multicultural, diverse organisation, with over 1,000 employees from 30 nationalities, operating in 15 countries across South Asia. The Singaporean headquartered multinational serves over 10,000 businesses across industry verticals including services, education, enterprise and distribution.

The growing number of vehicles and the rising traffic levels have given way to a proliferation in road accidents over the years. Road safety has not only become a pivotal issue for the Government but also a concern for Sri Lankan drivers. To address this issue, Transcend introduces their range of safety products that are set to increase levels of road safety.

The DrivePro series, Transcend's solution to road safety, includes the DrivePro 100, DrivePro 200, DrivePro 220 and the DrivePro 520. The range of car video recorders will capture footage and alert drivers when their vehicles deviate from lanes or exceed speed limits.

Additionally, it supports logging GPS coordinates, adjusts to low light conditions and records up to 30 seconds when the car loses power to ensure important images are recorded. All Transcend's DrivePro Series Car Video Recorders carry a two-year warranty.

Transcend is the market leader in memory related products across Sri Lanka - having achieved this through EZY Distribution's prowess. Transcend Information. Inc. has an extensive product portfolio including over 2,000 memory modules of flash memory cards, USB flash drives, MP3 players, digital photo frames and portable hard drives as well as multimedia products and accessories.

The Regional Head of South Asia at Transcend Information Inc., Hugo Lee said: "As part of our growth strategy and expansion drive for 2016, we have partnered with EZY Distribution to leverage excellent reach across Sri Lanka. Through this we have achieved a larger market share in the Car Video Recorder segment. In addition to the flash products which have been extremely successful over the years, the Car Video Recorder will help further strengthen our relationship and gain a foothold across the country. We believe this product will contribute greatly towards road safety and the current safety issues that prevail."

EZY Distribution brings to the relationship its wide network of contacts and local partners, as well as a highly motivated and proactive sales team. Transcend will further leverage the relationship to have its road safety products reach greater Sri Lanka.

Commenting at the Transcend Platinum Club organised for Transcend Distributors, Assistant General Manager, Technology and Consumer Products, EZY Distribution, Prabath Navaratna said "to celebrate the success of our long standing seven year relationship, we launched the 'Transcend Platinum Club' two years ago and we continue to value our distributors through such initiatives. EZY Distribution currently has over 10 distribution offices island-wide touching close to 1,500 computer partners enabling coverage across greater Sri Lanka."

"Transcend and EZY Distribution anticipate rapid sales growth in 2016 as product distribution expands to cover the gamut of the country's car electronic accessories market. We are excited with the growth plans for the year given Transcend's focus on road safety and look forward to propelling the products to reach a wider network," he added.

Transcend and EZY Distribution look forward to further strengthening their relationship across more product ranges. To create better Transcend product awareness among channel partners, Transcend and EZY Distribution have planned several marketing initiatives, including road shows, partner-site promotions, channel advertisements and participation in exhibitions and expos scheduled across the coming year.

The DrivePro series from Transcend can now be purchased across EZY Distribution's IT resellers and dealers island-wide. For more information please contact the EZY Distribution hotline on +94114366366.