Says US is world's leading consumer of Lankan exports
Thanking the US Govt. for GSP: Rishad
YoY exports to US up by 8%, 59% since '10
2014 exports to US at $ 2.7 b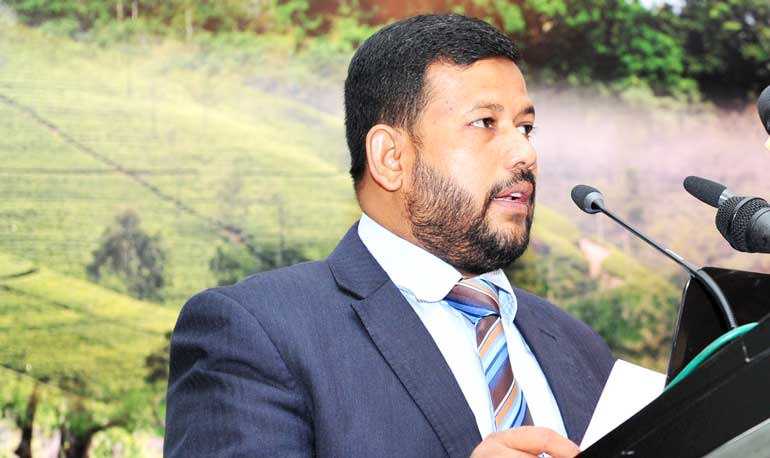 Minister of Industry and Commerce Rishad Bathiudeen
Sri Lanka's exports to US are surging on hectic phase and June's renewed US GSP facility has boosted Sri Lanka's export development efforts.

"On behalf of the Government of President Maithripala Sirisena, we thank the US Government for re-authorising this crucial trade facility to Sri Lanka. The US is the biggest consumer of Sri Lankan exports in the world as well as Lankan apparels," said Minister of Industry and Commerce Rishad Bathiudeen on 7 July, during discussions on US GSP with top Ministry officials at the Ministry of Industry and Commerce.

Last week the Department of Commerce under Bathiudeen announced that the US President signed into law HR 1295 on 29 June re-authorising the US GSP Program until 31 December 2017, providing preferential duty free entry into US market for nearly 5,000 products from 122 designated beneficiary countries and territories, including Sri Lanka.

US importers are eligible to claim the import duty paid by them for the eligible products under the USGSP Program during the lapse in GSP coverage from 31 July 2013 with retrospective effect. Accordingly, Sri Lankan exporters too gain duty free access for eligible products under the US GSP program.

Bathiudeen added: "In 2014, US took 24% of total Lankan exports and within this were 43% of our total apparel exports to the world. Since 2010, Lankan exports to US has increased by 59%. The renewed US GSP would help our exports development efforts further."

The 2014 Lankan exports to US was valued at $ 2.7 b. In the same year, apparels consisted of 73% of Lankan exports to US at $ 1.99 b. Since 2010, Lankan exports to US has surged by 59% as of 2014 and in comparison to 2013, YoY 8% increase is seen in 2014. Sri Lanka exported a total $ 4.7 b apparels in 2014.

Apart from apparels, Sri Lanka's other leading exports to US in 2014 were rubber tyres, plastic based packing materials, rubber gloves, activated carbon, coir products, and rubber floor coverings.