The main basis for the increase in excise revenue is being free from political influence, states Minister of Finance, Ravi Karunanayake.

The Minister further said that Government revenue could have been increased by a considerable amount if there had been no political influence under the previous Government.

The Minister said this at the ceremony for handing over the appointment letters to 46 excise officers recruited to the Excise Department, held recently at the Randora Auditorium, Ministry of Finance.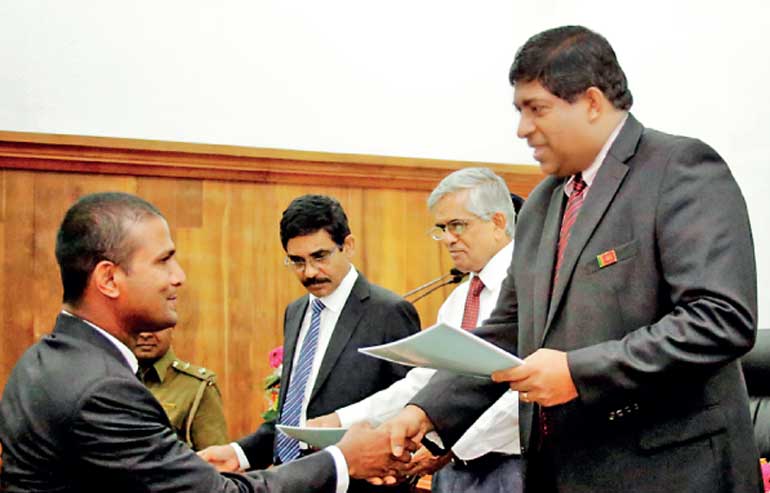 The Minister further said that now the youth had the opportunity to join the Government service without political influence and no one could agree with the system followed by the previous Government in providing appointments for Government service.

The Minister further said, «Total revenue collected by the Excise Department in the year 2014 recorded as Rs. 42 b has been increased up to Rs. 105 b by end 2015 due to the dedication of the officers of the Excise Department. I expect that this amount could be increased up to Rs. 200 b by 2016. The main reason for this increase in revenue collected by the Excise Department is lack of Government interference in its activities and such interferences could be considered as offences against public. The officers of the Excise Department are not responsible for not properly collecting revenue. The new political culture establishing in the country is more favourable.

"All of you received appointment letters today fulfilling required qualifications and therefore it is your responsibility to give utmost service to the country. If you dedicated to increase revenue, it will help to ease the burden of innocent people and that›s why you have been given freedom to do it in your own way. Foreign agencies should not instruct us on revenue pathways. We have this knowledge and shall we take effort to collect each cent which could be collected for the benefit of taxpayers. We have to defend against debt as revenue is not collected from where it could be collected.

"Excise income could be increased by 100% within a one year. If the revenue for 10 years was collected in this way for 10 years we could earn the cost incurred for the Mahaweli project and we have to look at why it has not been carried out earlier. Revenue collection by the Excise Department lost out due to political influences. When we came to power on 8 January, there were billions in debt not paid by the Rajapaksa regime that we have to pay. The problem is worsened with the global economic crisis but we are not burdening the people."

Ministry of Finance Secretary Dr. R.H.S. Samaratunga, Excise Commissioner General L.K.P. Gunawardena and several other officials participated at this occasion.