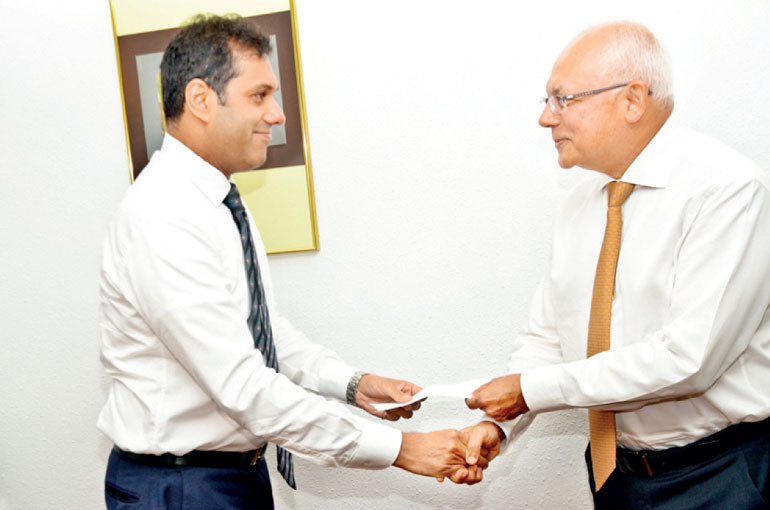 The Sri Lanka Institute of Nanotechnology (SLINTEC) received a sum of Rs. 5 million to its Permanent Endowment Fund from the Esufally family fund, making the family SLINTEC's first Silver sponsor. The Esufally family donation was made in honour of the late Abidhussen Hassanaly Esufally.

Speaking on behalf of the family at an event held at the Colombo Club, Murtaza Esufally revealed how he was inspired to invest in science and technology for the future of Sri Lanka.

"I think the moment when the penny dropped for me was when I was reading a book by Jeffrey Sachs some years ago in which he says that the only way a country moves from a subsistence economy to an emerging economy is through high-end products that only technology can make happen," he said.

However, he claimed that the clincher was his visit to the SLINTEC facility in Homagama where he was able to see its achievements first-hand.

SLINTEC Chairman Mahesh Amalean said that the endowment program was established with the aim of using the funds for specific projects and to find ways of supporting students who were passionate about science and technology.

"What SLINTEC has done is we've got corporate Sri Lanka excited about investing in research and technology. We have about 11 patents filed so far and we are engaging almost 45 corporates," he said.

While thanking Esufally, he stated that he sees the Esufally family as contributors to a vision of a country that is investing in technology for the purpose of development.

Also speaking at the event, SLINTEC CEO Harin de Silva Wijeyeratne revealed SLINTEC's plans to establish its own academy in a bid to support and provide opportunities for young talent in the fields of science and technology.

The Permanent Endowment Fund was established by F.G.N. Ricky Mendis who became the first donor and SLINTEC's platinum sponsor with his donation of Rs. 25 million back in August 2013.

The SLINTEC Endowment Fund is a trust which accepts donations from individuals as well as institutions. Over time, the Endowment Fund's income will be used to fund research and other initiatives at SLINTEC which are beneficial to the Sri Lankan society. The Endowment Fund will enhance SLINTEC's ability to carry out pioneering research in nanotechnology and advanced technology, enabling longer term strategic research ideas and concepts to be explored earlier at a more speculative stage.

The SLINTEC Endowment Fund has three donor categories – Platinum (Rs. 25 million), Gold (Rs. 15 million) and Silver (Rs. 5 million). To learn more about the SLINTEC Endowment Fund, please contact CEO Harin de Silva Wijeyeratne on 0716219199 or email [email protected].