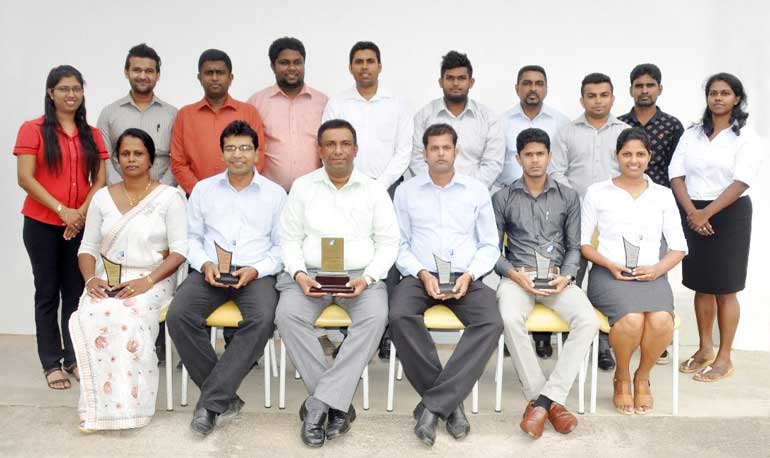 Standing from left: Cineka Dissanayake, Taj Bandarage, Waruna Shaminda, Vinod Pinto, Jeewantha De Silva, Buddhika Fernando, Ruwan De Silva, Rangika Madurasinghe, Rohan Silva and Dhammika De Silva. Seated from left: Ayoni Fernando, Anil Jeewananda, Sumith Samaradiwakara, Christopher Jayasundara, N. U. Kumara and Thakshila Hewathilake
Eskimo Fashion Knitwear Ltd., a company renowned for its production of export quality knitwear for international markets, was recently ranked second place at the National Convention on Quality and Productivity 2016 which was held in Colombo under the theme 'Beyond Quality and Productivity'.

Having participated in such competitions for the first time in their corporate journey, Eskimo was also ranked second in the Gold category and walked off with three Silver awards and one Bronze award for all of their five projects that were submitted. This annual convention of the Sri Lanka Association for the Advancement of Quality and Productivity was an all island competition with the participation of 50 major corporates in Sri Lanka.

"We are extremely proud to have won all of these five awards at this prestigious convention and I am ever so grateful to the Sri Lanka Association for the Advancement of Quality and Productivity, for recognising our efforts. We were also able to prove that our talent, commitment and hard work, achieved a unified goal through the 'Total Quality Management' programme which was initiated at Eskimo last year. We have already started to equip our employees with the requisite skills in order to add value to both themselves and to the company. This will no doubt contribute to achieving the Company's vision; which is to establish Eskimo as a brand that represents first class manufacturing operations internationally," said Managing Director Manik Santiapillai.