A long-time sponsor of Sinhala and Tamil New Year celebrations (Avurudu Uthsawaya) across Sri Lanka, fan-favourite Elephant House took its involvement in these celebrations to a whole new level in 2015, supporting 35 national, regional and rural events, in conjunction with Shaa FM, Sirasa TV, ITN and Rythm FM.

"When Elephant House fans think of Avurudu, thoughts of being refreshed by our much-loved soft drinks are never far away. As such, our partnering with 35 large and not so large communities island-wide was our sincere effort to bring joy, in a very real way, to as many Sri Lankans as we could during the joy-filled Sinhala and Tamil New Year period," said Ceylon Cold Stores PLC Head of Beverages Daminda Gamlath.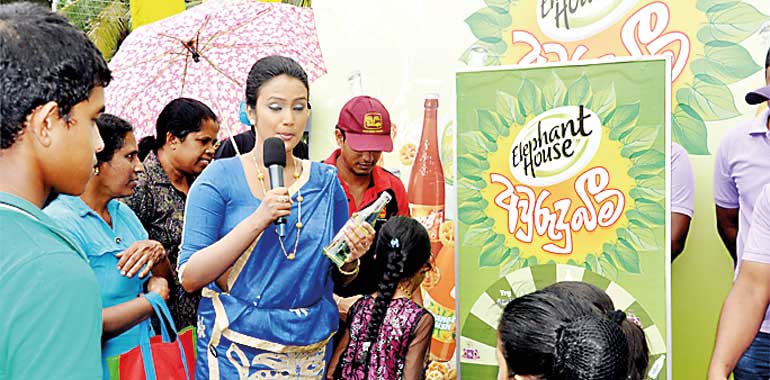 Starting in Matara and Kurunegala's Kuliyapitiya on 13 April, Elephant House added even more excitement to traditional Avurudu Kreeda (games) as well as cultural events, such as Avurudu Kumari pageants and musical get-togethers involving singing, drumming, etc., by providing prizes, materials and supplies that allowed these spirited events to become bigger and better, while gala cultural music shows capturing the soul of this festive season were held a few days later in Polonnaruwa and Kurunegala's Polpithigama.

However, this was only the beginning of Elephant House's nation-wide Avurudu celebrations, with 15 additional mini celebrations, each with its own games, music and pageantry, also having been held between 16 and 30 April.

Due to the ever-growing nation-wide popularity of its Rainbow Range, and Elephant House Cream Soda, Elephant House Necto, EGB and Elephant House Orange Crush in particular, the much-loved Elephant House sponsored mini Avurudu celebrations on 15 consecutive days, beginning with Atakohota in Elpitiya and then moving to Walgama in Athurugiriya, Polkotuwa in Matale, Parakramapura in Padaviya and Mahadiulwewa in Trincomalee in the week following.

This 15-day-long Elephant House Avurudu Uthsawaya tour further encompassed hamlets such as Kotiyakubura, Ipalogama and Abayapura to name just a few, before concluding in Palaviya in Pattalama at the end of April. There is no doubt that this truly massive undertaking delighted Elephant House fans to no end, with previously unseen levels of excitement and energy displayed at these mini celebrations by crowds both small and large.