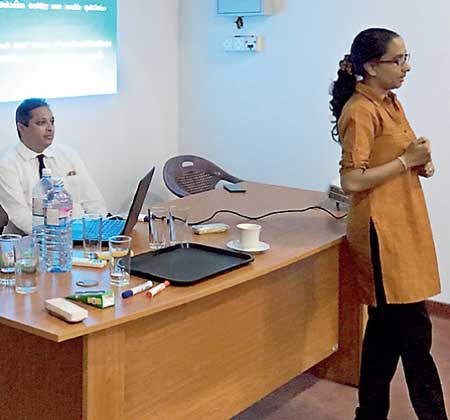 Through collaboration between the EFC and regional chambers of commerce, a series of training programs was recently conducted at the Galle and Matara District Chambers of Commerce and Industries, and the Industrial Services Bureau of Kurunegala.

The training program, comprising two sessions, targeted the representatives of companies and enterprises that are members of the respective regional chamber. These sessions entailed the operation of labour laws in the country and possible collaboration with the Employers' Federation of Ceylon (EFC) for the regional chambers to harness EFC's expertise on industrial relations and labour laws which will in turn have a positive impact on the membership and service portfolio of the regional chambers.

The programs were conducted by Vajira Ellepola, Attorney-at-Law and the Deputy Director General of the EFC and Sewwandi Jayatunga, Attorney-at- Law and a Senior Industrial Relations Advisor of the EFC. The introductory remarks were made by EFC Council Member Suresh de Mel.

The EFC-regional chambers partnership enabled by MoUs previously signed, aspires to expand EFC's outreach to corporates, businesses, SMEs and the business community outside the Western Province. The regional chambers are connected to the EFC through the Affiliated Associations Group of the EFC which meets quarterly. At these meetings, matters pertaining to affiliated associations are discussed and the regional chambers have the opportunity to bring up matters concerning industrial relations.

Feedback on these programs, Ellepola notes, has been very positive.

"There is an overwhelming demand for further training programs of this nature and moreover for them to be conducted on a regular basis," said Ellepola in a recent press release of the EFC.

He also noted that the regional chambers perceive the EFC to be a catalyst in bridging the gap between the businesses in the region and the expertise in industrial relations including the labour law of the country.

The possibilities for the EFC to offer a membership scheme with a customised service package to the regional chambers were also tabled and discussed during the sessions. The DDG asserts that such a move is mutually beneficial for both the EFC and the trade chambers. "In terms of the chambers, such an initiative will strengthen the relationship between the trade chambers and their members and thereby help them expand their presence in the region. The EFC will also benefit by expanding its outreach to regions beyond Colombo and its suburbs. Linking up with the trade chambers will also enable the EFC to have a stronger voice for business with a more representative character," he stated.