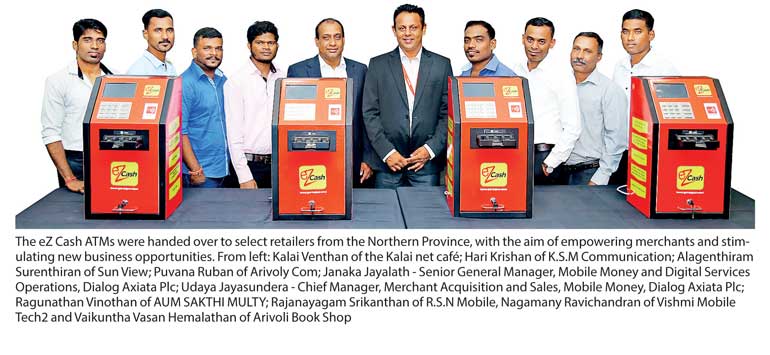 Sri Lanka's first and largest Mobile Money and Payment Service, eZ Cash, rolled out the first phase of its mobile operated ATM machine to select retailers from the Northern Province.

The initiative, held in collaboration with Australia's Department of Foreign Affairs and Trade (DFAT), was launched last November in Jaffna and will be rolled out in phases to expand across 200 ATM locations in Sri Lanka's Northern Province.

The eZ Cash ATM machines were handed over to empower merchants and stimulate new business opportunities for entrepreneurs and small retailers with a special focus on female retailers. The eZ Cash-based platform will also extend more facilities and cross offers that will empower merchants and provide facilities for utility bills and insurance to be paid at corner stores. Merchants will also receive the necessary training and parallel digital literacy programs introduced to expedite adoption.

The ATM machine has been developed in collaboration with the University of Moratuwa Mobile Communications Research Laboratory and will perform the function of cash withdrawals and cash acceptance. Customers across the Dialog, Etisalat and Hutch networks will be able to withdraw money via eZ Cash across a wide network of corner stores and ATMs by simply using their mobile phones. Speaking at the event, Dialog Axiata Plc Mobile Money and Digital Services Operations Senior General Manager Janaka Jayalath said: "The introduction of eZ Cash ATM machines will help increase adoption and the use of mobile wallets. The high withdrawal frequency and foreign money remittances were reason to roll out the project initially in the north and later extend it across the country. With a greater vision to enable financial inclusion in the country, we hope to empower merchants and reach underbanked communities that would not have access to such facilities."

Launched in 2012 as the world's first inter-operable mobile money service, eZ Cash has not only won the hearts of its users but also international recognition such as the Global Mobile Award for Best Mobile Money Service at the GSMA Awards 2015.

Dialog Axiata Group, a subsidiary of Axiata Group Berhad (Axiata), operates Sri Lanka's Leading Quad-Play Connectivity Provider. Dialog Axiata Plc, listed on the Colombo Stock Exchange, supplements its market leading position in the Mobile Telecommunications sector with a robust footprint and market presence in Sri Lanka's Fixed Telecommunications and Digital Television markets through its fully-owned subsidiaries Dialog Broadband Networks Ltd. (DBN) and Dialog Television Ltd. (DTV). The Dialog Axiata Group is Sri Lanka's largest Foreign Direct Investor (FDI) with investments totalling over $ 2.2 billion.

The winner of six Global Mobile Awards, Dialog has the distinction of being voted by Sri Lankan Consumers as the Telecom Service Provider of the Year for six years in succession at the SLIM-Nielsen People's Choice Awards. Dialog was also voted by Sri Lankan consumers as the Internet Service Provider of the Year, and has topped Sri Lanka's Corporate Accountability rankings for the past six years in succession and is an ISO 9001 certified company.

The company has received numerous local and international awards including the National Quality Award and Sri Lanka Business Excellence Award.

Dialog has been at the forefront of innovation in the mobile industry in Sri Lanka since the late '90s, propelling the nation's mobile telephony infrastructure to a level of advancement on par with the developed world. The company delivers advanced mobile telephony and high-speed mobile broadband services to a subscriber base in excess of 12.6 million Sri Lankans via 2.5G, 3G/3.5G and 4G networks.