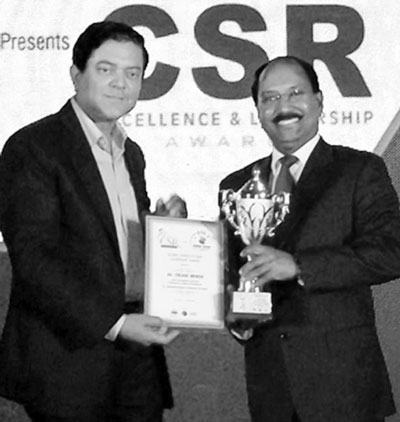 Postgraduate Institute of Management (PIM) Senior Management Consultant Dr. Trevor Mendis was awarded the 'Global Green Future Leadership Award' for the year 2016 by the World CSR Congress at their annual convention. This is his second international award. The event held on 18 February at the Taj Lands End Hotel in Mumbai, India was well attended by many prominent personalities from leading multinational corporations, pioneers in CSR and CSR gurus from over 87 countries. Dr. Trevor was bestowed this award as a 'Thought Leader' for his knowledge and expertise on CSR (Corporate Social Responsibility) and Sustainability, accomplishments as a professional, and his commitment and contribution towards the industry. This year the Annual CSR Conference was held under the theme of 'What Next?' from 'Green and Sustainability' perspective.

Dr. Trevor was independently identified and selected for this prestigious award by an international jury comprising of distinguished and eminent professionals of World CSR Congress in India, for which he served as a member of the Advisory Panel in 2012 and 2013. The World CSR Congress's global research cell identifies and recognises individuals and professionals such as Dr. Trevor for their expertise and knowledge and the contributions made to the CSR sphere in the recent past and recommends these professionals for this prestigious award.

The Chief Guest for the awards ceremony was Indian Institute of Corporate Affairs Director Dr. Bakshar Chatterjee, a key personality who was instrumental in designing the CSR code for the corporate world in India.

Accepting the award at the Taj Lands End Hotel in Mumbai, Dr. Trevor briefly stated, "It is an honour and privilege to receive this prestigious award adjudged by an eminent panel of independent professionals. I'm delighted and humbled that my knowledge, expertise and the commitment towards CSR and Sustainability have been recognised by a globally renowned organisation."

Dr. Trevor was also invited to contribute a quote on CSR as a 'Thought Leader' for the 2016 edition of The Annual Convention Handbook. He stated, "Corporate Social Responsibility (CSR), which was initially a 'moral and ethical' obligation, has evolved to the 'strategic' status in modern day global business. Research outcomes have evinced that companies fully and genuinely engrossed in CSR and Sustainability accomplish greater heights in the long term, fuelled by growing consumer perceptions of such companies. The future of CSR which would be the DNA of the corporate world is envisaged in broader terms encompassing many facets such as Society, Ecology, Value Innovation and R&D." (Dr. Trevor Mendis, p.24)

Due to his credentials, qualifications and unparalleled knowledge in many spheres, he was also selected to moderate a technical session as the Session Chairman during the conference. Among the distinguished panel for this discussion were Dr. Anvita Arora (Director and CEO of Innovative Transport Solutions), Barkha Mittal (Founder and MD for Green Evolution Eco Services), R. Karthik (CEO of Iacharya Silicon Power), Tanya Batra (VP Marketing SUNKALP Energy) etc. The session conducted by Dr. Trevor highlighted the benefits of 'Going Green', and the importance of formulating strategies from the global perspective. Some of the themes for other panel discussions were 'Effective Water Management', 'Women's Leadership for Sustainability', 'Electronic Waste Management', etc.

Dr. Trevor, who is a fully qualified (AIB) banker, has also obtained a Post Graduate Diploma in Business and Financial Administration from the Institute of Chartered Accountants of Sri Lanka and is a Fellow of CMI UK. He holds two Masters Degrees; a Master's Degree in Business Administration (MBA) from the Postgraduate Institute of Management (PIM), Sri Jayewardenepura University in Sri Lanka and a MSc. in Management, from Massey University in Auckland, New Zealand.

His profound interest in organisational development, change and sustainability saw him pursue and earn a Doctorate (Ph.D.) in Corporate Governance from the Kelaniya University, Sri Lanka, introducing a Corporate Governance Matrix to the world based on his Ph.D. Research. He has also specialised in re-engineering of companies and also works as a Corporate Trainer and Mentor for companies.