D&R Exports which supplies products to the market under the brand name 'Araliya' emerged as the winners in the Silver Category Award at the NCE Awards 2016 held recently. They bagged the award in the medium scale agricultural value added canned and processed food subs category at this annual awards ceremony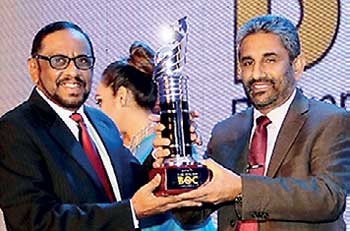 organised by the National Chamber of Exporters.

D&R Exports Chief Executive Officer M. Rajkumar believes that the company's vision of providing best quality products to consumers helped them coming up the ladder. "The dedication displayed by our employees in providing good quality products to consumers is our biggest strength. We are always ready to go to the farmers and buy their produce for best prices, thus, helping the country to earn foreign exchange while upholding the livelihood of farmers," he said upon winning the award and added that all processed food products are made according to recipes by his wife Mrs. Manel Rajkumar.

D&R Products supplies a vast variety of products to the export market which includes raw rice varieties red raw kekulu, kekulu samba, red basmati, keeri samba, white raw rice apart from their confectionaries including, dodol, rulang aluwa, thala aluwa, muscat, roasted chickpeas and other products like manniyokka, del and dried fish. In addition, they export spices including turmeric, chillies, coriander seeds, nutmeg and mace, cloves and cardamom to their foreign markets.

Apart from spices and other products they have also specialised in supplying processed food like katta sambol, seeni sambol, pol sambol, chutnys, moju and kitchen utensils including clay and aluminum pots, saucepans and other products. They have received ISO 22000:2005 and ISO 9001:2008 certifications. Their target foreign markets are Australia, Canada, Switzerland, Germany, Italy, United Kingdom, USA and other Middle Eastern countries including Dubai and Qatar.