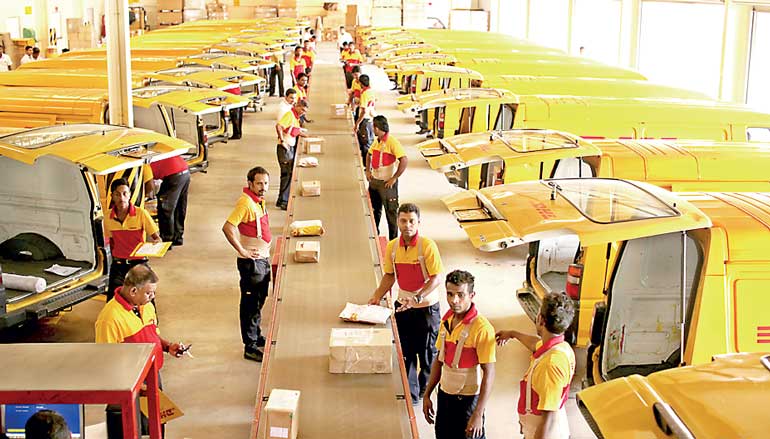 DHL express country office, state-of-the-art facility towards speed and excellence and 24 hour customer service
DHL Express, the world's leading international express services provider, is marking 35 years of operations in Sri Lanka this year.

DHL Express entered the Sri Lanka market in 1980 as the pioneering logistics company in the country. Today, the company records a dominant market share, meeting the shipping and business needs across an array of industries in Sri Lanka. The company is also named Top 20 'Best Companies to Work For' in Sri Lanka.

Continuously spearheading changes in the local logistics industry, DHL Express launched a state-of-the-art office complex facility in 2007 and in the following year set up a gateway facility within the air cargo city at the country's international airport. DHL customers in Sri Lanka have access to the only dedicated bonded warehouse, an air-side facility with 24-hour customs clearance and a 24-hour customer service support which offers the possibility of next day delivery to the US and UK markets.

"We are extremely excited to mark an important milestone by celebrating DHL Express Sri Lanka's 35th Anniversary," said Jerry Hsu, CEO, DHL Express, Asia Pacific. "The key to our overall success is our reputation for a deep understanding of our customers and their business needs. Our employees have been vital towards providing the best service to our customers and their dedication and commitment over the years is truly commendable and invaluable."

Looking back at DHL Express Sri Lanka's story of success, Yasmin Aladad Khan, Senior Vice President, DHL Express South East Asia and South Asia commented "We are pleased to be part of Sri Lanka's journey over the past three decades. Beyond cultivating longstanding relationships with our customers, we are also committed to giving back to the Sri Lankan communities through our corporate responsibility programs – and we will continue to do so."

With Corporate Responsibility as an integral part of the strategy of Deutsche Post DHL Group, DHL has over the decades, successfully engaged in several noteworthy projects in Sri Lanka, under the group's GoGreen, GoTeach and GoHelp initiatives.

Under the GoHelp program, DHL has constantly shown support to Sri Lanka during difficult times. In the aftermath of the Tsunami of December 2004, DHL provided rapid assistance in delivering relief supplies and humanitarian aid through its Disaster Response Team. In 2014, DHL also organised a Get Airport Ready for Disasters (GARD) workshop in partnership with the United Nations Development Programme (UNDP), using DHL's core competency and expertise in aviation and logistics to help airports to prepare for worst case scenarios.

DHL Express is the first logistics provider to introduce a carbon neutral shipping service in Sri Lanka, offering customers a range of carbon-neutral and low-carbon shopping options as part of its GoGreen program.

Employees at DHL Sri Lanka have also continuously volunteered their time and effort at the annual Global Volunteer Day, a global drive to give back to local communities and to instil a spirit of volunteerism among employees. Projects include providing hands-on support to children's homes and donation drives to raise funds to support the underprivileged communities in Sri Lanka.

Looking back at the transformation of a company that evolved from humble beginnings, DHL Express Sri Lanka has continuously raised the bar through innovation, unparalleled customer service and superior logistics solutions.

"As the longest established express logistics company in the country with a dominant market share, we are continuously looking at ways to provide our valued customers with the highest level of service. We strive to meet the specific needs of our customers and maintain our reputation as the logistics provider of choice," said Dimithri Perera, Country Manager, DHL Express Sri Lanka.

Established in 1980, DHL Express Sri Lanka experienced rapid growth through its Joint Venture Partnership in 1992 with John Keells Holdings, a blue-chip diversified conglomerate. DHL Express Sri Lanka's services include import shipment pre-clearance through the Board of Investment (BOI), shipment insurance available without hassle, multiple pick-ups and delivery and 24-hour shipment monitoring done via the Quality Control Centre (QCC).

"We've come a long way in 35 years and today DHL Express is among the most respected logistic services providers in Sri Lanka. We are proud of what we have achieved and look forward to serving the nation through the next few decades," noted Perera.