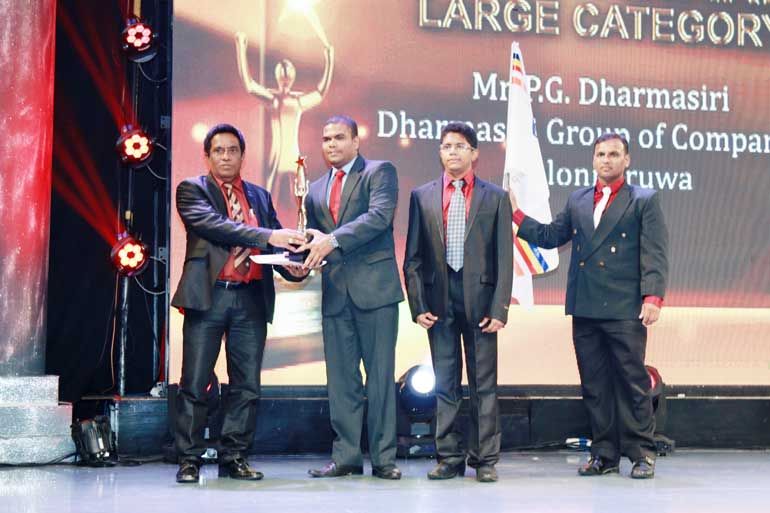 Dharmasiri Group of Companies received accolades at the 'Entrepreneur of the Year' ceremony organised by the Federation of Chambers of Commerce and Industry of Sri Lanka (FCCISL), when they received Gold and Silver Awards at this prestigious title. The Silver Award was presented to the organisation under the National Level Large Scale Industry category and the Gold Award was presented under the North Central provincial Large Scale Industry category.

"As a business venture, we constantly strive to change and improve with a view to systematically and strategically grow and expand our services. Consequently, we always endeavour to satisfy the needs of our customers which is enhanced by an efficient and customer-driven team of players. This has been the hallmark of us receiving such awards on a regular basis," stated Dharmasiri Group of Companies Chairman Deshashakthi Dr. P.H.D. Dharmasiri.

Commencing business operations in the late eighties, Dharmasiri Group of Companies is a leader in the market for tyres and tubes in addition to re-building of tyres to its original state. Under the DTH brand, products such as re-tread tyres, tyre inner flaps, cushion gum, solid tyres, tubes, EVA sheets, tyre canvas, rubber compound, curing tubes, DAG tread belts and tube patches are marketed locally.

Dharmasiri Group of Companies has also introduced rubber and plastic related products to the market and made a name for themselves. Towards this end, the business has purchased a huge acreage of land in the North Central Province for the growing of rubber. Through a process of using rubber refuse and a reclaim method of plastic and polythene, the business has ventured out into producing PVC water pipes and accessories.