Dhanan Senathirajah, a well-known banker, coach and lecturer, has joined World Vision Lanka as its new National Director.

He joins the international humanitarian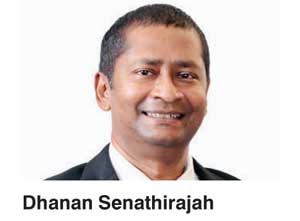 organisation after completing a career spanning 18 years with the National Development Bank, where he was Vice President - Finance and Planning. His has previously been employed by the Maharaja Organization, Reckitt Benkiser Ceylon, KPMG and Julius & Creasy.

Dhanan is an Attorney-at-Law and a fellow of the Chartered Institute of Management Accountants, United Kingdom. He counts 30 years of lecturing experience in CIMA, ACCA, CIM, ICSA and the Institute of Bankers Sri Lanka. He has also been an examiner at the Sri Lanka Law College. He holds a Doctorate in Missions from St Andrews Theological University India and is also on the international faculty of the Haggai Institute for Advanced Leadership Training, Hawaii, US.

Dhanan joins World Vision Lanka (WVL) at a juncture where the organisation is steering its course into a new strategic period. As a visionary leader, he is expected to combine strong business discipline with inspirational leadership skills in line with the values and ethos of the organisation to take WVL forward.

He has been closely associated with the organisation as a Goodwill Ambassador since 2011 and as a board member for Vision Fund (the microfinance arm of World Vision) since 2013.

He also serves on the board of many organisations such as the Back to the Bible Broadcast, Campus Crusade for Christ, Lanka Bible College, Healthcare Christian Fellowship and United Mission to Nepal.

World Vision Lanka is one of the largest relief, development and advocacy organisations in Sri Lanka. It works in areas of child protection, water and sanitation, health and nutrition, economic development and education as well as in emergency response. It also works with over 15 corporate partners in Sri Lanka and with major bilateral donors including EU, DFAT, KOICA and USAID.

The organisation operates in 42 program locations serving some of the remotest areas in the island. Last year WVL directly supported over 270,000 children through its programs in nearly 2,000 communities, touching over 550,000 lives.