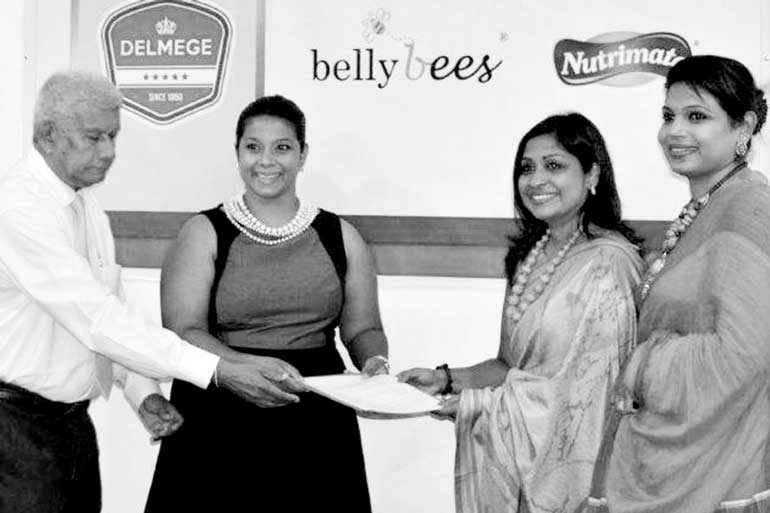 Delmege being in the forefront of the Sri Lankan consumer industry with a history of almost 165 years, offering many products that strive to enrich the lives of its consumers is proud to announce its latest partnership to feature in its multi-faceted distribution channel.

A ceremony was held at its consumer head office to mark this occasion where Delmege Consumer General Manager Nadeesha Abeyrathne said, "Delmege is renowned to offer best products to its customers and this step enables us to get closer to our consumers by undertaking distribution of infant cereal, toddler to adult cereal, toddler rusk, and infant puree under the brand names of 'Bellybees' and 'Nutrimate'. We firmly believe it is of paramount importance to give children and infants products with high standards of safety and health. Today we are proud to announce that we have obtained exclusive distribution rights for such products with a unique selling attribute of being 100% gluten free and no preservatives.

I firmly believe that we can go a long journey with Quebee Den and Cerestar, our partnering companies by introducing more products of this statute to enable our consumers to be healthier and safer in their day to day lives."

Adding to this, "We created the brands Bellybees and Nutrimate to assure that the next generation is preserved by providing products which are healthy and free of preservatives and other toxic chemicals. This is an area where the food industry has not paid much attention to and we have identified it as a necessity. As a parent, we have first-hand experience in how challenging – and sometimes stressful – it can be to make sure your child is getting the balanced nutrition he or she needs. It is not only our passion but also our duty to offer healthy products for the next generation… Our kids generation… keeping the ethos of both brands alive, and continue to develop which can be of immense benefit to the tweens, teens, adolescents and even the adults of all ages," said Quebee Den Ltd. Founder/CEO and Cerestar Ltd. Director Rohanthi Wijewickrama.

"Having a company like Delmege who believes in the same vision as ours is extremely gratifying and we are thrilled to be able to partner with such an amazing company and a team who will be dedicated to achieving many milestones with us," continued Rohanthi.

Bellybees and Nutrimate products are now available in the market in all leading supermarkets and general trade outlets at your convenience.