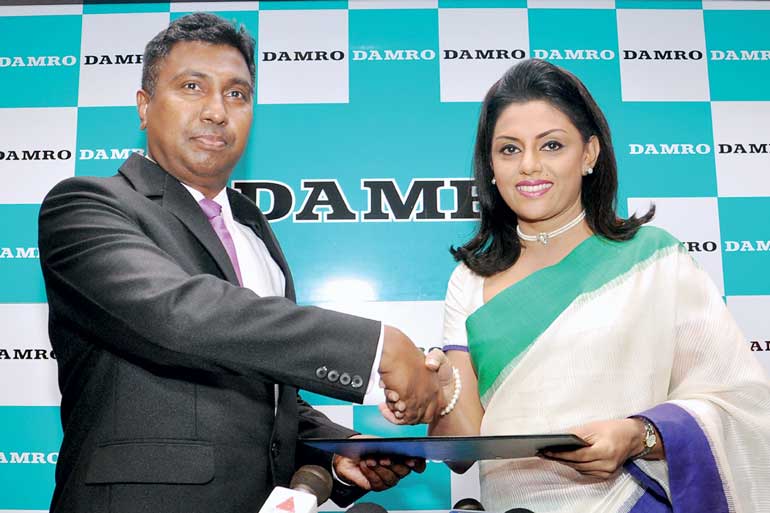 By Asnah Anver

The Damro Group has appointed popular Sri Lankan film and television actress Yasodha Wimaladharma as its first brand ambassador.

The appointment to promote Damro comes at a juncture where the company has many plans for expansion.

Damro Group Director Nalaka Gunathilake, who was present at the occasion to mark the signing of the agreement, said Damro, which began in 1986, has grown into a successful company over the past 31 years, with 156 showrooms spread across all the major towns in Sri Lanka, 62 showrooms in India and eight factories with a workforce of over 9,500 employees in the districts of Kurunegala, Gampaha and Kegalle. Damro recently added to this impressive reach with two mega showrooms of over 50,000 square feet in Nugegoda and Kurunegala.

Gunathilake also revealed the company's plans for expansion. It was stated that Damro plans to open two large factory complexes expected to generate over 2,000 jobs and three mega showrooms in Galle, Katubedda and Kandy by the end of the year. The company also plans to open over 30 more such mega showrooms across the island in the near future.

In terms of its products, Gunathilake stated that while Damro currently produces furniture and washing machines under its brand, it plans to introduce electronic appliances under the brand name as well; namely refrigerators, television sets and air conditioners. Gunathilake stated that he believes that the trust Damro has earned over the years will help the company in introducing these products to the market.

Wimaladharma, addressing the press conference, spoke of her long career of 31 years in the field of arts, having joined the industry at a very young age. She pointed to its similarity with Damro's growth and number of years, making her well suited for her role as its brand ambassador.

Wimaladharma also stated that it was a great honour to be a part of the Damro brand, adding that the brand is more than a product in the market but also a cause for national pride with its success in reaching international markets and diversifying beyond its initial furniture products to electronic appliances as well. The event was closed with the screening of a new Damro commercial featuring Wimaladharma.