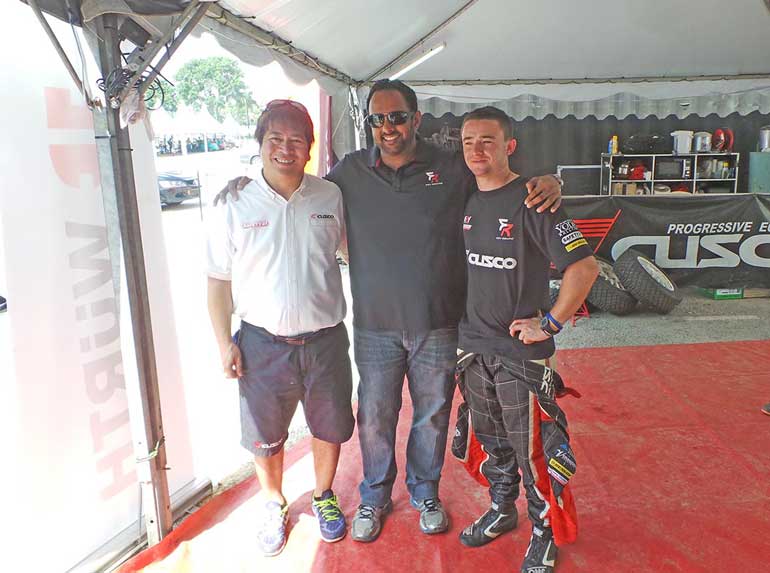 From left: Carrosser President and Cusco CEO Tsutomu Nagase, EZY Racing Founder/CEO Shafraz Hamzadeen and EZY Racing Champion Driver Mike Young
EZY Racing's Asia Pacific Rally Championship Technical Partner, Cusco, is scheduled to arrive in Sri Lanka later this week to further its partnership with the Sri Lankan based international motor racing team. The Japanese giant Carrosser, the holding company of Cusco, is a brand renowned for its quality, aftermarket automotive parts and the precise cars that they engineer for motor racing, and they will be arriving in Sri Lanka for the first time.

Tsutomu Nagase, President of Carrosser and CEO of Cusco, will be arriving in Sri Lanka along with International Marketing Manager Takuya Sugimura to explore the potential in the Sri Lankan market for Cusco products. Japan-based Cusco, present in over 30 countries across Asia, Asia-Pacific, Europe and the Americas, has established interest in the Sri Lankan market ever since their partnership with EZY Racing, Sri Lanka's first international motor racing brand. The Cusco EZY racing team, who formed their partnership earlier this year with Kiwi driver Mike Young representing them internationally, have had 100% podium finishes in every rally they have completed.

The Cusco CEO's visit stands as a firm interest to explore further possibilities of strengthening the partnership with EZY Racing which includes the Cusco brand becoming a part of the iconic racing brand, EZY Racing.

"We are extremely pleased to have the presence of Nagase in Sri Lanka," said EZY Racing Founder/CEO Shafraz Hamzadeen. "Ever since our partnership earlier this year, we have had many discussions on how we could further our partnership and this visit stands as a true testimony to Cusco's commitment to our partnership. A company like Cusco could contribute immensely to Sri Lanka, from both a consumer perspective as well as a motor racing perspective," added Hamzadeen.