Established in 1965, Crown Worldwide Group is a unified organisation comprising several divisions – Crown Relocations, Crown Records Management, Crown World Mobility, Crown Fine Art, Crown Logistics and Crown Wine Cellars.

Services rendered include international and domestic household goods shipments, shipment storage, global mobility, departure and destination services, fine arts transportation, records management, freight forwarding, third-party distribution and specialised logistics services which include project management of oil and gas equipment, hotel refurbishments, wine storage and warehousing and distribution of luxury goods.

Having celebrated 50 years of experience in February of this year, Crown offers strategic assignment management services and complete relocations for multinational companies and government organisations. It plays a leading role in supporting employees on organisational assignments and private individuals initiating a new life in a completely new destination, as well as corporate information management which includes archiving, retrieval and a secure management of data in both physical and electronic format.

With its global headquarters in Hong Kong, Crown currently boasts 265 offices worldwide, located in almost 60 countries. Crown Sri Lanka, a branch of Crown Worldwide Group, was launched in 2013 and is engaged with relocation services and record management.

In an interview with the Daily FT, Crown Relocation Regional Manager for South and Central Asia Radha Iyer and Crown Records Management Assistant General Manager for South Asia Praveen Joseph highlighted the promising aspects of the global and regional operations of the company and relevance to Sri Lanka. Following are excerpts: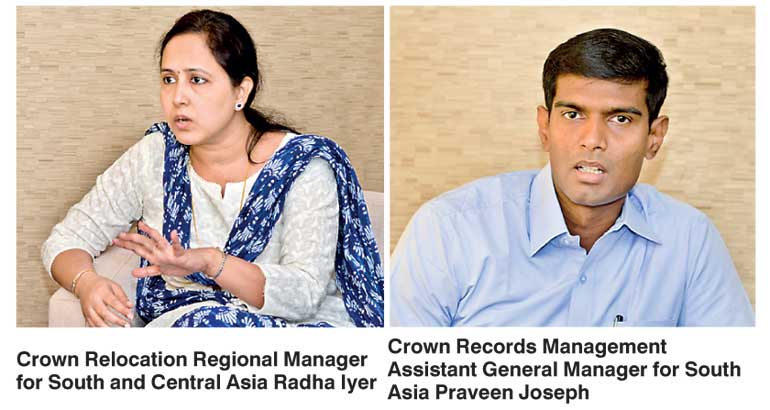 By Shannine Daniel
Q: Your global company has many divisions but locally you only offer relocations services and record management. Does Crown Sri Lanka plan to expand into other divisions?

Iyer: We started fairly recently and have been in the country for only three years now. However, we have been able to break even at a country level and have been doing quite well. We have plans to expand into one more division, the fine art division. We are currently looking into museums and artwork movement, because that is one sector in which we would like to expand. Right now we are entrenched with records management and relocation services.
Q: How far has Crown Sri Lanka progressed since its establishment in 2013?

Joseph: Within relocation services, we have largely developed ourselves. In the records management division, we have stored a number of critical documents, and in terms of volume we are picking up now as we have started doing business with many companies.

Iyer: Though we are unable to disclose the names of our customers, we can say that we have touched almost all diverse industries such as the hotel and hospitality industry, embassies, banks, financial institutions, the research and pharmaceutical industry and also infrastructure. In terms of volume we are not looking at market share. Since we are the only international company in Sri Lanka right now when it comes to relocation, we want to give the people here that international 'flavour' which a company like ours is all about. We've been in the world since 1965, earning 50 years of experience, that wisdom is what we want to give the Sri Lankan people. We are not looking at capturing the maximum market share. We are more concerned about bringing that experience into the Sri Lankan market and letting them see the value of our proposition; how it will make the corporate HR and mobility teams' lives easier, by making their employees live stress free when they relocate.

When it comes to records, it's all about risk management and data management, which will make the administrators and all the finance teams' lives easier. We are definitely here for the long run.

Joseph: As Radha said, when it comes to market value, we're looking at a market where quality is more recognised; we are definitely looking at customers who want a better quality service. The 50 years of experience that we have had in handling customers all across the world, as well as our worldwide system, is put into building facilities and infrastructure and putting processes into place. In Colombo we are definitely the only company that offers world class service.
Q: Why did Crown Worldwide decide to diversify into records management?

Joseph: This diversification happened in the 1980s, which was the time that companies felt the necessity for storage space and the utilisation of current space for better purposes. We had a few warehouses available, and companies started to ask us if we can store their records. That's how the idea started up. The primary motive was to use their office and warehouse space for a better purpose.

In a place like Colombo you must be paying a high rent for your offices. You cannot afford to keep an old record there, which might probably be used once in two years or maybe even three years for a legal purpose. But at the same time it has to be kept in a safe environment. You can't just dump all the records in one storeroom, there has to be a scientific process for storage. So that's why we diversified from relocation services into storage and retrieval, to meet these needs.
Q: How does Crown Records Management store critical or important documents?

Joseph: From a physical storage system it's moving more towards a digital environment, with scanning, imaging and storing data on cloud and retrieving it. However it still happens on both fronts, physical as well as digital. Even though there are a lot of digital policies coming in, people still need the physical copies to prove a case legally. Maybe three to five years down the line we might go in for a digital environment completely but right now it's a mix of both; you need both your physical copies and your digital copies as well.
Q: How does Crown Relocations provide individuals and organisations with the facilities to travel or immigrate to other countries?

Iyer: Migration per se is not our forte. We do not look into the migration of individuals or employees of organisations. It is only when they take a decision to migrate that we step in. A to Z solutions is what we give them, when a decision is taken to relocate. If an organisation wants to send an employee on an assignment to another country, in addition to all the other services we offer, we can have a preview trip arranged before the assignment is even taken up. Then the person has a fair idea of how things operate in the destination country, whether it will be a lucrative or purposeful trip, and whether the family will be able to adapt. Therefore it will be a very informed decision that the person takes before they even accept an assignment.


It's also an advantage to the HR team and the company or organisation because they won't be giving an unsatisfactory assignment to the person, and they won't be spending resources, time and energy putting someone in an environment in which they will be unhappy. That is how Crown helps them. When the assignment is accepted we have a whole list of services to offer such as immigration, school or home search, etc. Once they are in the country, even a temporary accommodation may be required until they finally find a home. Also on offer are services like shipment transportation with shipment insurance, complete settling in at the destination, which can sometimes encompass foreign language training and inter-cultural training, because countries and cultures differ. So it's a whole lot of services which we have to offer.
Q: How does Relocation Services help companies and people?

Iyer: Crown helps relieve HR through seamless transitions of their employees. This eliminates a lot of pressure from the HR teams' work lives, by making their employees' relocations stress free and an experience to look forward to. In turn, this helps them become productive in their assignments from day one. That is how we help companies, by striving to achieve stress-free relocations for all their employees.


When it comes to relocation what we do is take all the transactional work out of the HR divisions' hands. The world is becoming a 'global village' and people are moving to different parts of the world and HR no longer remains a division which takes care of only the transactional side of things like booking hotels, managing transport and taking care of the pay checks. The division is evolving and becoming more strategic and resourceful. What they need as assistance is another organisation which takes care of all the other backend stuff. So when it concerns transactional matters and essentially getting things done, that is where relocation companies like Crown come in. That is the reason major global MNCs today have a separate mobility division which partner with companies like Crown.

We also cater to individuals. In Colombo, we are looking at the private movers as a very big market and at present we are helping them out with the basic household goods' shipment transportation.
Q: Could you further explain the services offered by Records Management?

Joseph: As Radha put forward, what we do with our global experience, especially the experience that we have gained through working with many verticals, is helping our customers with increasing their productivity, because today managing records is not their core activity.

They have to concentrate on whatever their business is into, yet can't completely focus on their business because they are also concentrating on managing their records. What we are trying to help out with is taking care of the records activity completely so that they can put their time and efforts to concentrate more on their core activity. This also releases a lot of resources which can be used for another purpose and of course this increases their productivity as well.

We meet a lot of clients and some of them get into many legal complications because they are unable to produce a document, so that's one area which we stress upon, because if a document is really required, it has to be there. This highlights the importance of our company because we take care of that part of the company's activities, by scientifically putting things in order and giving it back to them whenever they need it.
Q: How much of revenue has the company generated, both globally and regionally?

Iyer: Our aim is to achieve $1 billion by 2017 on the global level, and we have achieved about 80-85% of the targeted turnover at this point. On a regional South Asia level, have achieved $15 million in revenue. On a country level, we have managed to achieve breakeven point by August 2015 and that's a sizeable thing for a start-up company.

We came here wanting to expand and explore this part of Asia, because we tasted success in India. We have 20 branches/sites in India, and plan to open two more next year. We are growing exponentially, and we want to mirror the same thing here in Sri Lanka. We are also exploring other parts of South Asia. We are on our own, we are not dependent on anybody and as a company here in Sri Lanka we are quite proud of what we have achieved. We had our Hong Kong office, which is our global headquarters, help us establish by giving full financial and infrastructure support.
Q: Is this a routine visit?

Iyer: Yes; the last time we came was in March 2015 and it's almost become like a second home for us. The core of Crown's values is the customers and our people, so we make sure to keep in touch with our customers, which is best done face to face. Even though social media is very active now, it does not replace the warmth and impact of a one-to-one interaction. We also need to meet our service partners, as well as our staff based here.

From the perspective of supporting the Sri Lankan team, we visit every year, at least a quarterly visit; if not one of us, then our Managing Director in India does. Somebody is always here and we keep in touch on a regular basis. This is an emerging market for us and feeling the pulse of the customer is very important.

Joseph: We make sure we meet both existing customers and also new prospects. That happens everywhere. Our customers give us the right feedback, which helps us to adapt and change.
Q: Could you outline future plans of Crown Worldwide and Crown Sri Lanka?

Joseph: Crown Sri Lanka will focus on its third line of business, which is the Fine Art division.

Iyer: Of course we want to expand geographically, because right now we are only present in Colombo. We know that none of the other moving companies and record management companies are situated elsewhere and we want to be the first to expand. Sri Lanka is also growing and there's a lot of infrastructure development and a lot of FDI coming in. It's the right time to be here. So that's the plan – fine art and geographical expansion.

Crown Worldwide has a lot happening in the mobility division. Right now what we spoke about relocations was helping people settle in. But when it comes to global organisations with big HR teams, what they also look at is compensation and benefits management, tenancy management and expense management for their employees and policy making for the organisation.

Our focus next year, therefore, is going to be on taking this division of Crown Worldwide forward and making our presence felt in all these global organisations. Our global aim is to take Crown World Mobility to the world.
Q: Anything more that you would like to add?

Iyer: We are here to stay and we want to explore Sri Lanka and expand. Colombo is not our limit.
Pix by Daminda Harsha Perera