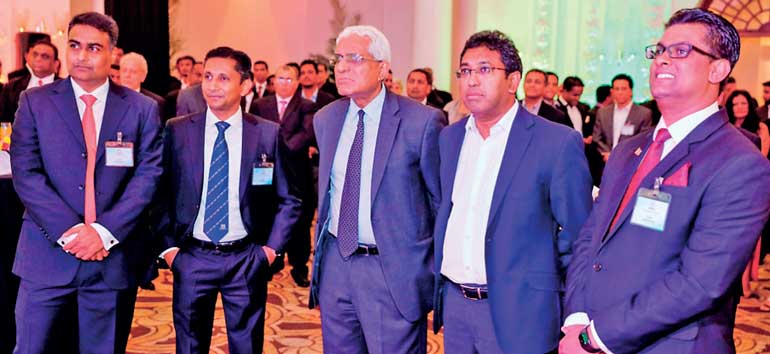 From left: COYLE Senior Vice Chairman Kushan Kodituwakku, COYLE Chairman Kasun Rajapaksa, Central Bank of Sri Lanka Governor Dr. Indrajit Coomaraswamy, Deputy Minister of Foreign Affairs Dr. Harsha de Silva and COYLE Vice Chairman Dinuk Hettiarachchi
Chamber of Young Lankan Entrepreneurs (COYLE) hosted high commissioners, ambassadors and representatives from diplomatic missions and international agencies for cocktails at its sixth annual 'Diplomats' Evening' recently at the Jubilee Ballroom of Galle Face Hotel.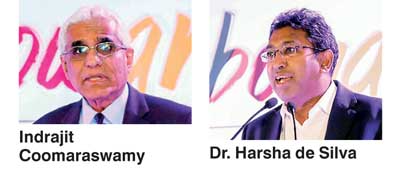 The event was aimed at facilitating opportunities to network, showcase successful partnerships and discuss new forms of cooperation between Sri Lankan businessmen and international agencies via diplomats of various countries. The event was highlighted by the commitment from all parties to building bridges that help tackle global challenges together.

Over 50 foreign ambassadors graced the occasion in the presence of Chief Guest Deputy Minister of Foreign Affairs Dr. Harsha De Silva, Guest of Honour Governor of Central Bank of Sri Lanka Dr. Indrajit Coomaraswamy along with COYLE Chairman Kasun Rajapaksa, Senior Vice Chairman Kushan Kodituwakku, Vice Chairman Dinuk Hettiarachchi, Chairman of the Organising Committee Niral Kadawatharatchi and COYLE members.

The Diplomats' Evening aimed at showcasing inspiring entrepreneurs and representatives from around the world in creating new opportunities for investment, partnership and collaboration; connect Sri Lankan entrepreneurs and investors with international counterparts to form lasting relationships; and highlight entrepreneurship as a means to address some of the most intractable global challenges. It was an evening of cordial interaction and networking to give participants tailored opportunities to gain relationships that will help their ventures grow.

COYLE Chairman Kasun Rajapaksa in his welcome address while introducing the two guest speakers, thanked the Embassies for their special courtesies extended to COYLE for mutual collaboration in opening up business opportunities and building relationships that can open doors to enhanced business activities. He also elaborated on COYLE's considerable contributions to the country's economy in the fields of manufacturing, services, trading, construction and engineering, tourism and hospitality and IT including the marketing of global brands of the various countries represented by the diplomats.

Addressing the distinguished gathering, Dr. Indrajit Coomaraswamy unveiled the new economic strategy that would play a pivotal role in Sri Lanka's economic recovery and in driving the country's economic resilience and sustainable prosperity. He reiterated the Government's goal in keeping the momentum of recovery going and to spread its positive effects around the country.

Dr. Harsha De Silva, in his address affirmed the ministry's aims to build the country's bilateral economic relations with key partners by utilising and mobilising its trade missions abroad. He added that qualified personnel have been appointed in order to work closely with our ambassadors to fully mobilise public and private stakeholders in order to further economic, trade, scientific and cultural relations with their assigned countries. Concrete implementation of economic diplomacy on the ground was essential. Each mission has been assigned targets to provide value added services to all businesses which are interested and involved in the relevant key countries.

COYLE is committed to the vision of safeguarding the country's economy and the Sri Lankan business community by playing a vital role of national importance, emphasised by its theme, 'Recognition through Excellence'. The Chamber also promotes entrepreneurship in the rehabilitation and development initiatives of the Government and international economic development of the country.

Event Partners: Three Sinha Industries, Ceylon Biscuits Ltd. Navesta, Epiq Foods and DSI.