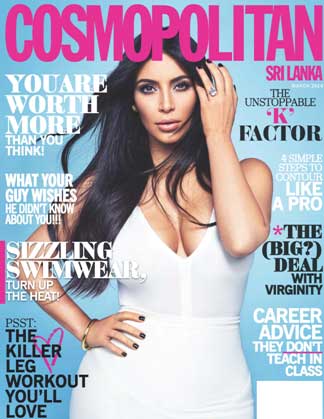 Cosmopolitan, the iconic media brand for young women worldwide, debuted in Sri Lanka yesterday, at the Kingsbury Hotel in Colombo.

The super-brand, published in 74 countries, with a combined monthly print and digital audience of more than 100 million, is the first major global media brand to launch in Sri Lanka. Kim Kardashian appears on the March cover and is interviewed inside. Cosmopolitanhas been inspiring and empowering young women around the world for decades, and will be an exciting addition to the media landscape in Sri Lanka. The ultimate millennial playbook, the magazine's engaging content spans fashion and beauty, relationships, health and fitness, career and entertainment, encouraging young women to live their lives to the fullest.

"Cosmopolitan will bring sophistication to our media landscape and fill a void that has been existing over the years. With Cosmopolitan Sri Lanka, young women will have access to the latest in lifestyle content and empowering stories that resonate, encouraging them to be bold and confident in every way," Cosmopolitan Sri Lanka publisher Antoinette Ludowyk said.

Published monthly, Cosmopolitan Sri Lanka will reach the young woman at her location of convenience. From bookstores to supermarkets, clothing stores to restaurants and salons, Cosmopolitan Sri Lanka will be easily accessible for its desirable audience.

Hearst Magazines International licensing and business development Senior Vice President Gautam Ranji added, "The Cosmopolitan brand is truly global, and we're pleased to be partnering with Capital Media to bring the magazine's 'fun, fearless' message to the young women of Sri Lanka."

As the largest U.S. publisher of magazines worldwide, Hearst Magazines International, a unit of Hearst, encompasses nearly 300 print editions and more than 250 websites in 30 languages and 78 countries. Hearst Magazines which publishes 21 titles in the US, has wholly-owned subsidiaries in China, Italy, Japan, the Netherlands, Spain, Taiwan and the UK. Capital Media is a Media & Publishing company that has changed the landscape for publishing in Sri Lanka, with its innovative and creative approach to content development and distribution. Launched in 2012, the company currently publishes Echelon, a business monthly and www.economynext.com, a business and financial news site.