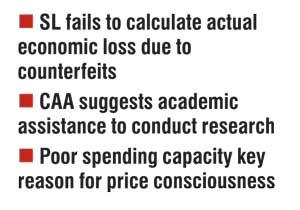 The Consumer Affairs Authority (CAA) is joining the growing chorus for the enactment of Anti Dumping Law to protect consumers as well as Intellectual Property Rights of companies.

"In an open market economy, there are plenty of opportunities for low quality fake products to come into the country, especially when there are no proper regulations in place to safeguard consumers. It is time Sri Lanka enacted the Anti-Dumping Law to safeguard consumers and intellectual property," CAA Director Consumer Affairs and Information Chandrika Thilakaratne said.

She went on to say that, since Sri Lanka's economy is taking off at a rapid pace, necessary regulations such as the anti-dumping law should be in place to protect consumers against marketing of goods and services hazardous to life and consumer rights.

Thilakaratne said that, as a result of not having the regulations in place, the country had failed to calculate the actual economic loss caused by counterfeit products flown into the country over the years.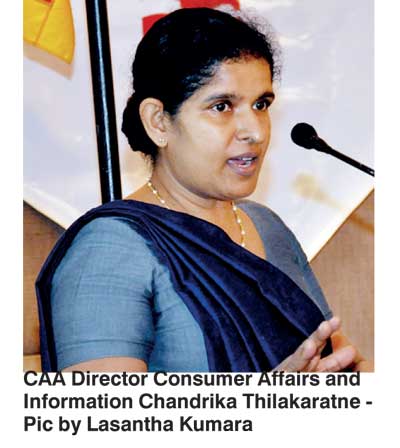 "The gravity of the economic loss has still not been calculated, as no research has been conducted on this for years," she explained.

Thilakaratne suggested that, with the assistance of universities, the CAA would like to conduct research on the economic impact and calculate the loss. "Initiating programs of this kind would benefit the country at large and also help increase Government revenue."

It is important to protect genuine manufactures as well as encourage research and development activities and innovations to protect the general public that are misled by cheap quality products, she added.

Noting that counterfeit products are not only coming from developing countries, Thilakaratne explained that such products also smoothly flow into the country from well established economies. Therefore, she said, implementing necessary laws and regulations was critical for consumer protection.

The main counterfeit products that flow into the country are pharmaceuticals, cosmetics, automobile parts, electronics, software, building materials, cigarettes, garments, watches and handbags.

Elaborating on the perception of consumers, Thilakaratne pointed out that poor spending capacity turns out to be the main reason for the public to be more price-conscious. «Our consumers are more conscious of the affordability of products than they are of the quality of it. This is mainly due to lack of awareness about hazardous impacts of purchasing counterfeit products.» (CDS)