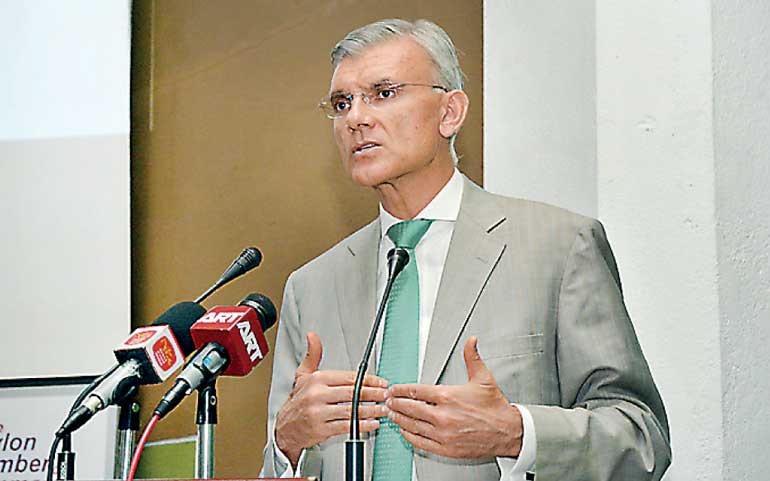 By Charumini de Silva

Sri Lanka should look at much more comprehensive trade agreements in order to tap into global value chains, Institute of the Policy Studies (IPS) Chairman Dr. Razeen Sally recently said.

Noting that the more comprehensive bilateral trade agreements are known to be with the European Union (EU) and the US he suggested that Sri Lanka should exploit those trade opportunities.

"With the European Union it should not just be GSP+, which is frankly peanuts —it should be much more comprehensive. Same with the Americans, you could do a Trans Pacific Partnership (TPP) rather than going for a bilateral and this would be serious," he pointed out.

Although Sri Lanka is certainly not in a position to join the TPP at the moment, he asserted that in the event the TPP becomes a reality, the country must carefully assess the costs and benefits of joining the agreement with due stakeholder consultations, as it would mean a significant difference to the economy.

Elaborating on the TPP implications for Sri Lanka Dr.Sally pointed out that trade agreements are a package deal. "You have to look at the costs and the benefits to the country. There are benefits like market access, competition, boost in economic growth through tariff cuts and a common set of standards."

Outlining the wide range of areas included in the TPP such as trade in goods, services, investment, labour, environment, digital trade, intellectual property rights he said it requires much better capacity within the Government to coordinate clear trade in line with much stronger rules.

Emphasising that TPPs were negotiated for geo-political advancement he noted that the agreement is very much about the US being engaged as the balancing agent in East Asia, in other words to counterbalance the Chinese factor.

He went on to say that other countries like Singapore, Malaysia and Vietnam were signed on to the TPP not only because of the economic benefit, but because they want the US to be in their region as an allied civilisation to counteract the control by one party dictatorship, which also has a certain form of capitalism that many countries quite legitimately are uncomfortable with.

"It is one way of cementing the relationship with the US and it is of course not a military agreement. Of course one should continue to be constructive, friendly and engage more with the Chinese, but only the Americans can do this to balancing out of Chinese to ensure safety and security of the Indian ocean. It is a compliment to other forms of collaborations with US. To have the US involved very strongly in the Indian Ocean as the balancing agent to China and others," Dr. Sally said.
Pic by Shehan Gunasekara