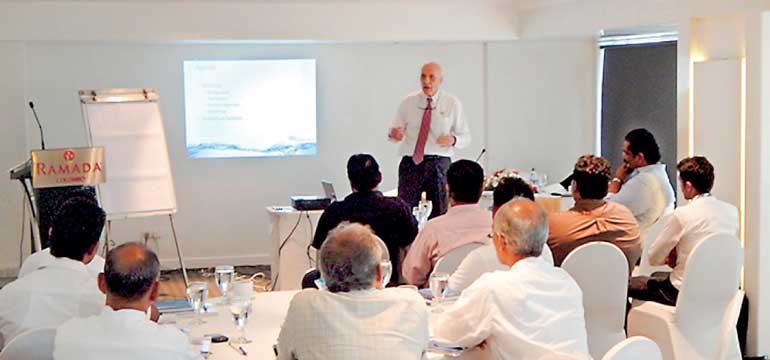 Cleansol Ltd., an associate company of M.C. Abdul Rahims and Brothers Ltd., has been appointed as the sole distributor for T&S Brass Bronze Works Inc., for Sri Lanka and the Maldives.

T&S Brass & Bronze Works Inc. (T&S) is a leading manufacturer of faucets, fittings and specialty products and accessories for the foodservice industry. Founded in 1947, the company was the inventor of the pre-rinse unit (now replicated the world over) and other key innovations such as the foot pedal valve. T&S headquartered in South Carolina, USA has significantly increased its overseas presence in the last two decades, with product distribution in Europe, Australia, the Middle East, Canada, Japan, Southeast Asia and South America. The company has now expanded its reach and has appointed Cleansol Ltd is an associate company of M.C. Abdul Rahims and Brothers Ltd. who are in the business of wholesale and retail distribution of glassware, cutlery, crockery and other kitchen related items to the hospitality and retail markets. Cleansol's core business is to provide cleaning detergents, sanitisers and related solutions for the hospitality and food service industries.

T&S Brass together with Cleansol Ltd. recently invited leading professional kitchen designers and fabricators for a training program conducted by William Stella - Director of International Sales at T&S Brass.

The training program which was held at the Ramada Hotel in Colombo was an introduction to the manufacturing process at T&S Brass and its unique designs that are renowned for being interchangeable. Promoting water conservation through control floor rates and preventing water leakage are synonymous with the T&S.

The training program also introduced the ENVIROPURE Food Waste Disposal Systems. EnviroPure's revolutionary EPW food waste disposal system is a self-contained, continual feed, organic waste disposal system designed to convert food waste into water. The system works through a combination of continuous mechanical processing of the food waste, tightly controlled environmental conditions to maintain aerobic decomposition, and hyper-acceleration of the decomposition process through the addition of BioMix additive. The EPW system fits seamlessly into any supermarket, commercial or industrial kitchen operation allowing food waste to be dealt with as it is generated at the source. Complete decomposition of food waste typically happens within twenty four hours and is available in operational processing capacities ranging from 68 kilograms to six tons per day. The introduction of the EnviroPure system generated the most amount of interest from the participants who identified that it would solve a lot of problems here in Sri Lanka, and especially in the Maldives.

T&S products have earned a reputation for being well-built, long-lasting and reliable. Rigorous testing and a focus on interchangeability have helped set T&S apart from the competition for nearly 70 years.