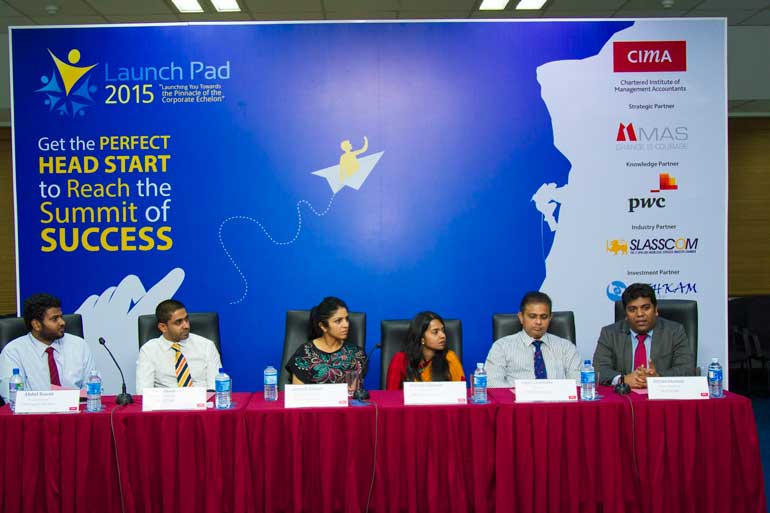 Launch Pad 2015 is yet another novel initiative introduced by the CIMA Students' Society. Launch Pad is a competition which provides teams comprising of aspiring individuals the opportunity and platform to voice out their business and social ideas to an audience of top notch corporate personalities, thus standing a veritable chance for untapped potential to get recognised and brought to the fore.

Endorsing Launch Pad 2015 are Strategic Partner MAS, Knowledge Partner PwC Sri Lanka, Industry Partner SLASSCOM and Investment Partner Athkam World.

Launch Pad has proved to be a pivotal platform through which entrepreneurs manage to get their start-up business ideas up and running by proving their traction to the assembly of investors.

The typical entrepreneurship journey moves through various stages, from the initial conception of the idea to the formulation of the business plan, and eventually to the actual execution of the plan, where the business might hit gold or could just as easily crash and burn.

For many entrepreneurs, the journey is a daunting one because they need to perform many tasks simultaneously while always being conscious that their limited financial resources might run dry in the near future.

Finding sufficient capital to fund a start-up can be an ordeal in itself. By demonstrating their mettle and pitching the idea that a commercially viable business opportunity exists, entrepreneurs stand a legitimate chance to attract investors and get their start-ups off the ground.

Launch Pad does exactly that. It bridges the gap between conceptualisation and actual execution, and enables innovations to be born and brought forth.

A highlight of this year's Launch Pad is that a new segment; the 'Social Idea' category has been introduced. Social entrepreneurship is a new thing to Launch Pad and to the country in general.

The prospective of a whole new plethora of possibilities and avenues being opened up from this category is an exciting one.

This year's competition received an overwhelming number of applications for both categories, which signifies the true potential of the eco system.

The initial phase along with the mentorship sessions were successfully completed with an integral contribution by the event partners.

The Grand Finale of CIMA Launch Pad 2015 will be held on 1 November at Hilton Colombo Residences which will witness the final presentations of the business and social categories.