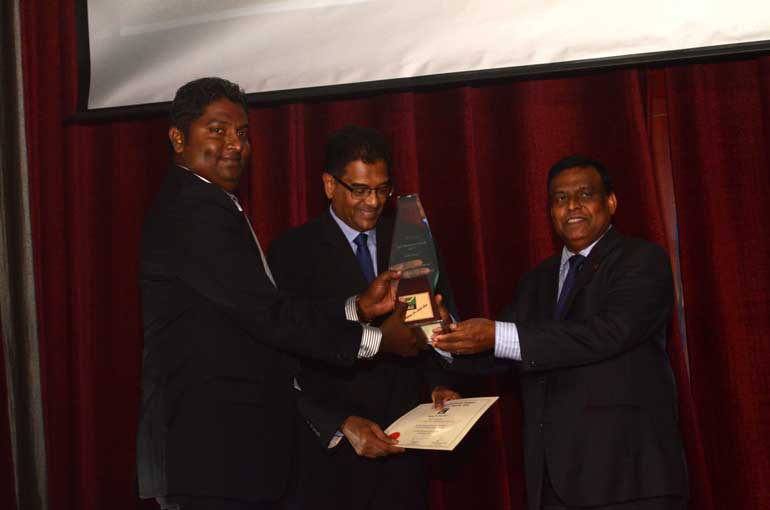 Chuti Duwa Group of Companies Director Danushka Hettiarachchi receiving the award at the Agribusiness Awards ceremony
The Agribusiness Awards 2015, organised by the National Agribusiness Council, recognised Chuti Duwa Group of Companies as the year's best livestock enterprise with a Gold Award.

Chuti Duwa Group of Companies who plays a vital role in the Sri Lankan food, livestock and agriculture sector was founded in 1983 as a small farm and today the company has become one of the best farms in Sri Lanka which provides a wholesome, naturally nutritious variety of meat products and provides breeding materials to the domestic customers.

It is the main producer and supplier of best quality breeds of animals such as piglets, goat and sheep to the local farmers. It has become the market leader of producing pork meat to the Sri Lankan market. In addition to pork meat, it supplies mutton, lamb, turkey, duck, eggs, goat milk and yoghurt. Its newly built TEMPT meat processing gives an opportunity to expand the business significantly and caters to the high-end market such as star class hotels in Sri Lanka. The Chuti Duwa Livestock Ltd. and TEMPT Meat processing is an ISO 14001:2004 Environment Management system certified company. It's accredited by UKAS (United Kingdom Accreditation Service) which maintains with international standards.

The Chuti Duwa Group of Companies' agribusiness model has gained global recognition for linking farmers and entrepreneurs to the market through a sustainable and inclusive value creation process. In addition to the above core business it produces animal feed, fertilisers, fruits and vegetables. It also provides consultancy services and ensures quality and safety of its products. As a member of society it has committed to save our motherland by focusing on an environment friendly value chain.