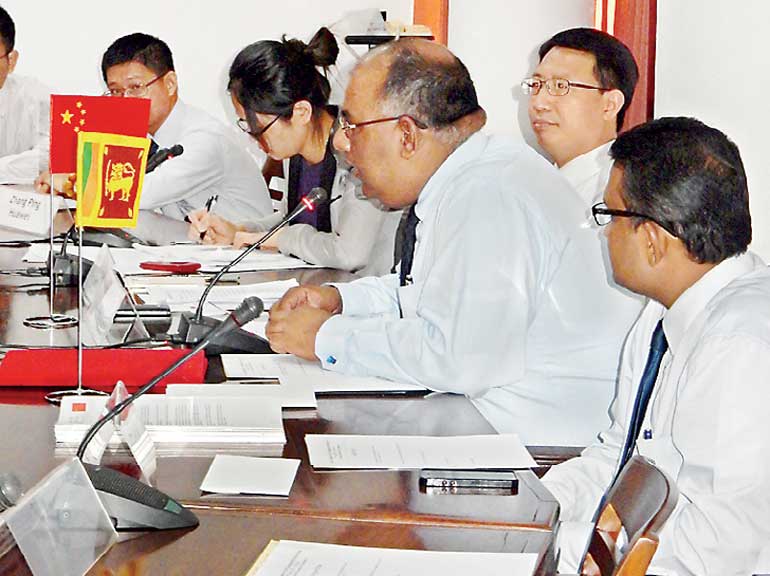 Sri Lanka has invited Chinese businesses to come and set up manufacturing units in the country by forming joint ventures with local partners.

This invitation was made by Ceylon Chamber of Commerce Sri Lanka-China Business Council President Navindra Abeysekera when he chaired a networking session held between a group of visiting Chinese businessmen and Sri Lankan businesses.

The delegation from Guangdong Province in China met with the local counterparts at the Ceylon Chamber of Commerce recently where they discussed potential business opportunities existing in either side.

Speaking further during the event, Abeysekera said setting up plants in Sri Lanka would help Chinese manufacturers avoid the high cost of manufacturing currently experienced in China.

The Chinese delegation was headed by Guo Yuanqiang, Director General of the Department of Commerce of Guangdong Province in China. He said Gunagdong Province was looking to attract increased foreign investments to the country as there was a heavy demand for industrial activity in the region. Member companies of the Sri Lanka-China Business Council and the Senior Assistant Secretary General of the Ceylon Chamber of Commerce Lilakshini De Mel was present at the meeting.

An MOU was signed between the Sri Lanka-China Business Council and Guangdong Province during the event.