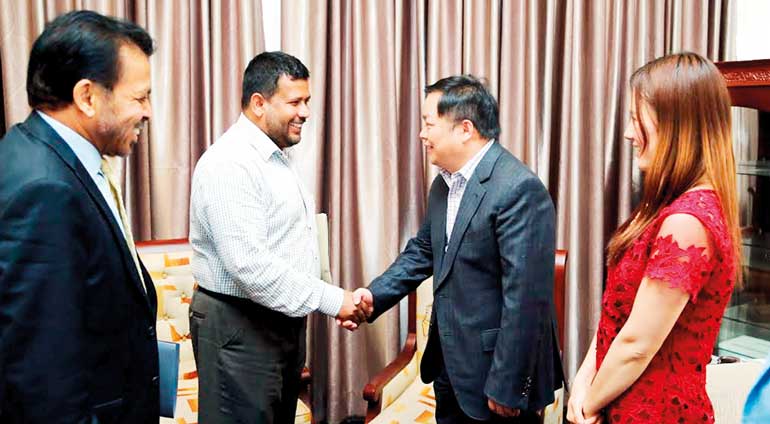 Industry and Commerce Minister Rishad Bathiudeen welcomes Beijing's SSG International Holding Group President Chen Hong as Dr. Palitha Kohona (left) looks on at the Ministry of Industry and Commerce
Boosting Sri Lankan mineral sector outlook, a global industry conglomerate from China mainland announced on 12 May that it is ready to take a lead role in Sri Lanka's strategic minerals.

"We are looking for outright purchase of any mineral sands and graphite production of Sri Lanka," said a determined Beijing SSG International Holding Group President Chen Hong in Colombo.

SSGIHG's President Hong was addressing Minister of Industry and Commerce of Sri Lanka Rishad Bathiudeen during his special courtesy call on the Minister.

Joining President Hong were his facilitators to Sri Lanka Dr. Palitha Kohona and Nanda Kohona as well as four SSGIHG senior officials.

The diversified conglomerate SSGIHG has its hands on a vast array of sectors – among them are mineral exploration and mining, tourism, automotives, shopping malls, new energy (non-ferrous energy storage, R&D), project crowdfunding, computer networks, culture and leisure parks, construction, waste recycling and industry parks, film and TV production, brand marketing, healthcare, large scale digital entertainment R&D gaming and computing, and modern agricultural science and technology.

Among SSGIHG's project and finance partners are the global investment bank UBS Group AG, China's third-biggest brokerage Guotai Junan Securities Co, and Forbes listed and Deutsche Bank partnered Hua Xia Bank.

"We are one of the large scale industrial groups in China – if not the largest! We are highly diversified. We are also the biggest mineral exploring firm in China with ongoing operations in other Asian countries and Africa. We are looking for outright purchase of any mineral sands and graphite production firms of government of Sri Lanka and also looking to fully own them if possible," said Hong.

"We believe that Sri Lanka has rare earth element deposits but can do better – we think Sri Lanka is not getting the best price for them in international markets and we can help Sri Lankan mineral sector to earn more in their exports. We are also interested in new energy partnering. We have many innovations and our new energy R&D has developed 'silicon battery' for electric cars which has more than 700 life cycles and high capacity, and we hold the national patent for it in China. Recently South Korea ordered us to supply this battery to their growing electric car market and we entered an agreement with Korean National Competitiveness Council to help the country's rapid motor vehicle electrification process and we are partnering with each Korean car makers one by one-that is the level of our new energy where we can partner with Sri Lanka."

There are many mineral sources from where REE could be extracted but mostly from two main types-Monazite and Bastnasite. Sri Lanka is among the nine countries with monazite deposits and considered only second to China's. The rare earth element source Monazite was originally discovered in Sri Lanka in 1914.

"As per the development vision of President Maithripala Sirisena and Prime Minister Ranil Wickremesinghe, we look forward to transform state owned firms such as Lanka Mineral Sands and Graphite firms towards profit making entities," said Minister Bathiudeen.

"These are under the purview of my Ministry but we cannot divest them fully as they are public assets and are also engaged on our strategic Rare Earth Elements (REE), generating income. Still we are interested in technology upgrade, and investment partnership that can help these firms to get better global prices for the strategic minerals they produce. Therefore any partnerships with specialised firms such as SSGIHG that supports strong value addition to the strategic mineral and gets us better prices are great win-wins for us. I also invite you to set up your silicon battery manufacturing operations in Sri Lanka and we are ready to extend our assistance in this. Your batteries made here, and matches HS code specifications, can be quickly and duty free exported to 1.4 billion South Asian market using our Free Trade Agreements with India and Pakistan. China is one of the leading buyer of our mineral exports."

China ranked number one among the eight countries that purchased Lankan mineral sands in 2014. In fact China has been the number one global buyer of Lankan Mineral Sands in the last few years. China continued its dominance in 2014 buying from Sri Lanka to the tune of $ 6.3 million – three times to the value of the next closest buyer of Lankan mineral sands – India. In the period of 2010 to 2014, China's mineral sand purchases from Sri Lanka also reported a 31% increase. In 2014, China ranked fourth in import of 'Natural Sands' (Silica & Quartz, Mica and Graphite) from Sri Lanka, buying at $ 1.6 million (Japan leading at $ 7.6 million).

Responding to Bathiudeen, Hong, whose firm often works closely with Chinese Prime Minister's office, said: "I am encouraged by your support and I like to present our initial proposal for the mineral sector. We are also interested in forwarding our proposals for new energy production lines here in future-and we are keen to start with Sri Lanka's mineral sector since its demand is growing."

The 123,000 tons of global rare earth production (2010) is estimated to grow 300% through 2017, due to increased international demand for green technologies.

Both Minister Bathiudeen and President Hong also discussed other potential forms of cooperation with Sri Lanka's industry sector during their 12 May meeting.