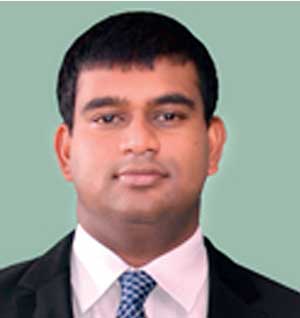 Daya Group Director Chamindra Gamage has been appointed to the Board of Blue Diamonds Jewellery Worldwide Plc as a Non-Executive Non-Independent Director with effect from 16 August.

Chamindra holds a B.Sc. (Hons) Degree in Economics and A M. Sc Degree in Accounting and Finance from the London School of Economics and Political Sciences.

He has substantial post qualifications and management experience having worked at several corporates including MAS Holdings and Sampath Chinkara Securities. He is the General Manager/Executive Director at Bimputh Finance Plc. He is also a member of the Young President's Organisation (YPO) and the Chamber of Young Lankan Entrepreneurs (COYLE).

With the latest appointment the Board of Blue Diamonds Jewellery Worldwide comprises S.A.S. Jayasundara (Chairman), X. Liqiang (Deputy Chairman and Joint Managing Director), P.M.K. Gamage (Joint Managing Director), Z. Min, Z. Ruichun, Z. Ruiyun, M.G.M.S. Zurfick, S.M.G.K. Serasinghe, T. Wickremesinghe, S. Prabaharan and C.K. Gamage.