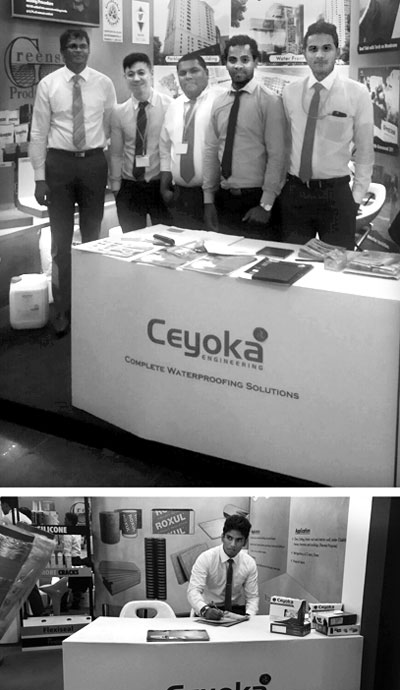 Sri Lanka's largest, most prestigious and influential annual architect exhibition organised by the Sri Lanka Institute of Architects held recently featured the latest products and services used by practicing Architects, aligned to the construction industry.

Architect 2016 titled 'Members' Work & Trade Exhibition 2016' showcased the country's foremost diversified group, Ceyoka Ltd.'s holistic approach in offering insulation and water proofing solutions.

Displaying a range of insulation material such as rock wool and glass wool which offer acoustic and thermal protection respectively, Ceyoka Engineering emphasised the need to save energy, achieve sustainability and focus on the importance of new green building technologies.

Glass wool and rock wool products including boards, pipes and blanket were on display at the Ceyoka stall.

Glass wool is one of the most widely used forms of insulation world-wide due to its acoustic properties, light weight, high tensile strength and exceptional resilience. Its application is mainly over ceilings, under roofs and interior walls, under cladding in houses, factories and buildings.

Glass wool is among the most dominant types of insulations used in ship building, boiler refrigeration, air-condition ducts, ovens and for fireproof doors.

Rockwool products are made from stone and its unique fire-retardant properties offer long-term thermal performance, dimensional stability and sound absorption.

Its application is mostly for industrial buildings, factory roofs and walls, warehouses, ship buildings, tanks, boilers, ovens and high temperature fluid and steam pipes.

"Architect 2016 was a great opportunity for Ceyoka to showcase glass wool and rock wool insulation solutions to the local market and construction community. Our products are from internationally reputed suppliers, have been independently tested, and demonstrate they are energy saving. Moreover, ensuring a building is well-insulated and energy-efficient adds overall value to the property," said Yasith Fernando, Manager – Insulation Division, Ceyoka Ltd.

Ceyoka is also committed to providing customers with high quality total waterproofing solutions. During the Architect exhibition, Ceyoka showcased different types of waterproofing applications such as bituminous sheets, injection grouting, membrane and external wall applications, sealant products, and for exposed applications.

The applications of these products are suitable for areas such as the bathrooms, balconies, roof slabs, water sumps, blind walls and external walls, basements and treatment plants.

The water proofing products which are ISO certified and quality approved according to British and American standards, are obtained from leading suppliers from countries such as Malaysia, Australia, Egypt, etc.

Ceyoka brings in a solid experience of over 15 years and technical expertise in the supply and application of water proofing solutions for the local market in addition to its well-trained staff who possess in depth knowledge of the subject.

The company's wealth of experience is recognized in the construction industry. Currently Ceyoka is servicing over 70 projects island-wide. These include the prestigious John Keells Waterfront project, the Samudra Beach Hotel Kosgoda, LOLC Hotel Beruwala, a large-scale water treatment plant in the BOI Zone Koggalla and the Baurs Head Office Building in Colombo.

"Ceyoka offers a unique market proposition, great technical knowledge and many years of experience and prides itself in offering clients the best in water proofing solution in product range, quality, and customer service," noted Channa Rodrigo, Deputy General Manager, Waterproofing Division, Ceyoka Engineering Ltd.