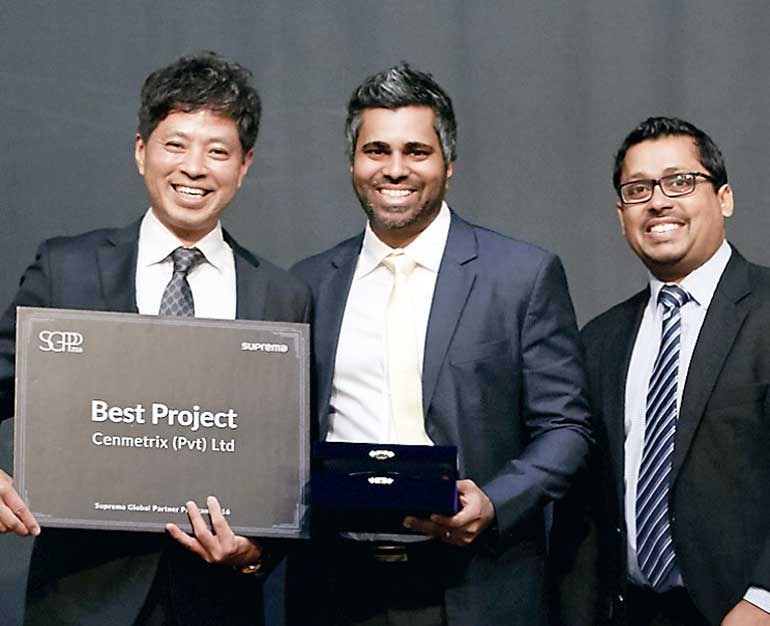 Cenmetrix receiving the '2016 best project award' in Songdo Smart City, South Korea. Standing from left: Suprema Inc President James Lee, Cenmetrix Director Farhard Hussain and Cenmetrix Director Ziyam Kamil
Suprema Inc is a leading global provider of biometrics and ID solutions. Suprema has a worldwide sales network in over 130 countries and is one of the world's Top 50 security companies in its turnover (ranked in A&S's Security 50, 2010-2015).

Cenmetrix walked away with the best project award for the year 2016 at the Suprema Partner Conference held at Sheraton Grand, Songdo Smart City, South Korea. Cenmetrix has been involved in some key projects in Sri Lanka, and was recognised for these projects and contributions made to the biometric security industry.

Cenmetrix (www.cenmetrix.lk) is a leading Technology SI specialising in biometric and RFID/ NFC related application for the Sri Lankan market. Cenmetrix portfolio expands over 500 customers in Sri Lanka and Maldives, with over 4,500+ installations island-wide for key projects involving high level biometric security for the private and public sectors.