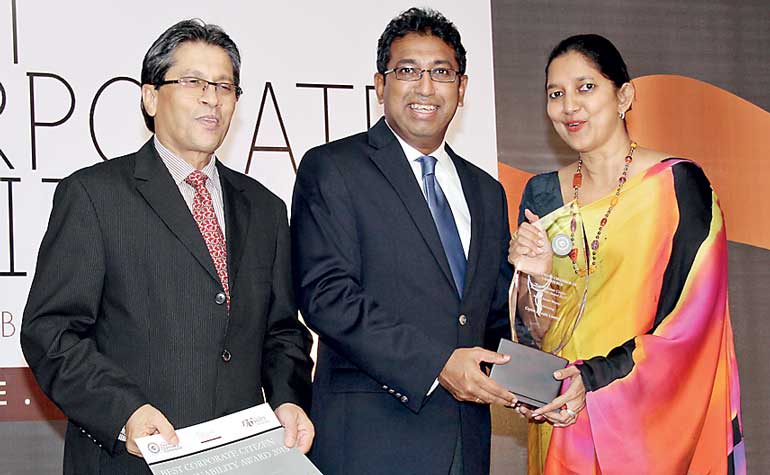 Ceylon Biscuits Ltd (CBL) was recently recognised by the Ceylon Chamber of Commerce (CCC) as one of the top ten corporate citizens in the country at the recently concluded 'Best Corporate Citizen Sustainability Awards 2015,'walking away with 5 accolades. This marks the 8th occasion that the company has been ranked amongst the top ten at this prestigious awards ceremony and is a fitting tribute to CBL for its caring approach towards the community it operates in, which is also symbolised through many of its CSR initiatives.

CBL also received the award for Winner in the Manufacturing Sector among the best corporate in Sri Lanka which is not only a testimony to its world class manufacturing excellence but also to the company's concern for people and the planet, while offering products of international quality to consumers across the globe.

The CBL Group operates its own system for manufacturing excellence which the company has developed by extracting specific criteria from other world class standards such as 5S, JIT and TQM and combining it into its own 'Munchee Production System.' The system revolves around the key components of Productivity, Safety, Cost, Quality, Delivery, Morale and Innovation. The company attributes its success in this highly competitive industry to the effective implementation of its manufacturing excellence program, which CBL feels could possibly be a model for other companies to adopt.

In addition to being adjudged among the Top Ten Best Corporate Citizens of 2015, CBL also walked away with the 'Best Sustainability Project Award' for the development of the CBL's 'Bees Honey Production' project, which successfully revived the bees honey industry in the Uva province, and was adjudged winners of the manufacturing sector under the 'Best Sector Award' category.

Two of the company's Corporate Social Responsibility (CSR) initiatives were also proud recipients of a certificate of merit under the 'Best Sustainability Project Award' category. ' CBL Govi Paula,' for having recognised the critical need to protect its farming community and ' CBL Hope,' for empowering differently-abled youth to live with dignity while contributing to the economy. CSR has become an integral part of CBL's brand guidelines as it continues to integrate itself into the community it operates in and Munchee Samaga 'Gamata Sarana' and 'Munchee Tikiri Shishya Adara' are two such projects among several that seek to accomplish this objective.

Having defined CBL as a company that delivers benefits to all segments of the Sri Lankan population, the Group Managing Director of CBL, Sheamalee Wickramasingha, said, "It gives us great pleasure to be recognised in such fashion as this highly acclaimed award is widely considered the highest corporate honour to be won by any business in Sri Lanka and we are sincerely pleased that the Ceylon Chamber of Commerce rated us amongst its exemplary corporate citizens. Accolades such as these elevate the recognition and the image of our company and should make us even prouder to be part of such a great conglomerate. Although the process of embedding sustainable practices in a highly diversified business is an ongoing challenge, we will remain committed to our vision of being the leading biscuit, chocolate and confectionary manufacturer and marketer in Asia, while developing a strong global presence and recognition."

The Best Corporate Citizen Sustainability Awards 2015 sought to honour and recognise the importance of Corporate Sustainability in Sri Lanka and encourage businesses to adopt such practices in order to create goods and services, using systems that ensure efficient use of resources, minimise pollution and enhance the well-being of all communities. It is the only corporate honour in the country that evaluates all aspects of a business namely; environment, employee and customer/supplier relations, community relations, CSR along with governance and economic contribution, while winners are evaluated for their overall performance in these five categories.