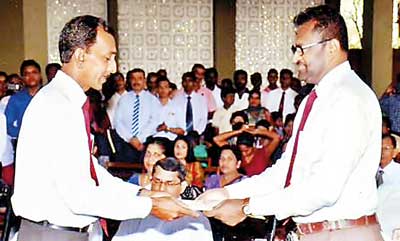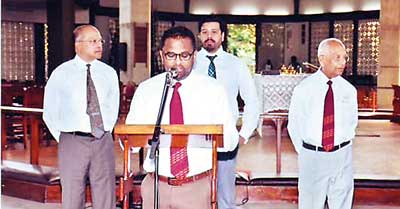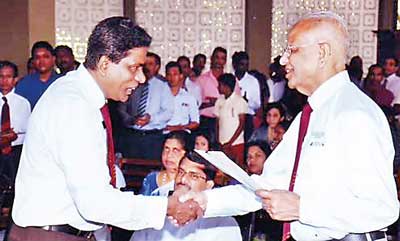 Ceylon Business Appliances (CBA), celebrated 46 years of continued business experience and a philosophy driven by 'Unsurpassed Reliability'. CBA enjoys a well deserved reputation in Sri Lanka as a leading manufacturer/supplier of a broad range of office products, banking solutions and technical support services.

The celebration began with a 'Thanks Giving' service at the Christ the Living Saviour, Baudhaloka Mawatha, Colombo7. Thereafter long service awards were presented to staff who had over 10 to 30 years. J.P. Wijesinghe, for serving the company for 30 years received his award from Charles Singarayar, the founder father of CBA. There were four employees with 25 years, seven with 20 years, five with 15 years and 11 staff members with 10 years of loyal service to the company. The Service awards for different categories of years were presented by M/s Tony Singarayar (MD), Sardha Fernando (CEO) and Sidath Balachandra (CFO).

Today CBA is one of the key players in the field of office automation and banking solution in Sri Lanka. It not only provides total office solutions but offers a superlative after sales service for a wide range of products it markets. The companies head office is located at Reid Avenue, Colombo 4, which comprises the sales show room, sales team, and Print Shop includes stationery items and the finance division. The company operates a very skilled and competent Technical Services Division (TSD) at Dehiwela. It employs around 130 skilled staff in maintaining and servicing all the machines marketed by CBA.

The company's reputation is especially strong in the high-value banking sector, where constant repeat business is the norm, where low price is not the only criterion for an order and where CBA's experience, insight and trusted relationships gives it a formidable and a competitive advantage.

CBA commenced business operations in 1970, being the sole agents for Brother typewriters and has now diversified into office equipment business in areas such as access control, automated teller machines (ATMs), Plastic ID cards, membership and loyalty cards, telephone scratch cards and also imports and supplies international credit cards – VISA and Master to banks.

CBA has been a major supplier of banking solutions and machines, such as cheque book dispensers, cheque deposit machines, cheque writers and scanners, currency bundling machines, Walther cheque encoders from Germany and pass book printers.

The CBA has been a pioneer in photocopiers in Sri Lanka with its MITA brand and have now changed their brand name to Kyocera Digital Copiers/Printers from Japan. The fax machines are imported from Malaysia, Point of Sale (POS) machinery from Hong Kong – Spectra, Multi Media Projectors from Japan – Ask Proxima, Smart Card Initialisation machines from UK – NBS and to name a few more products would be paper cutters, laminators, shredders, scanners, typewriters, time recorders, U.V. Lamps, UPS machines etc. CBA is a leading supplier of telecom scratch cards to all the leading mobile operators in the country.

CBA approaches each customer as a strategic partnership. This commitment, which includes recognising each customer as having unique needs, allows the company to provide tailored solutions; that includes state-of-the-art products, components and consumables that meet or exceed each customer's requirements.

CBA's marketing policy is 'Be sensitive to the special local need of customers and provide good customer support and service when and where it is needed'.