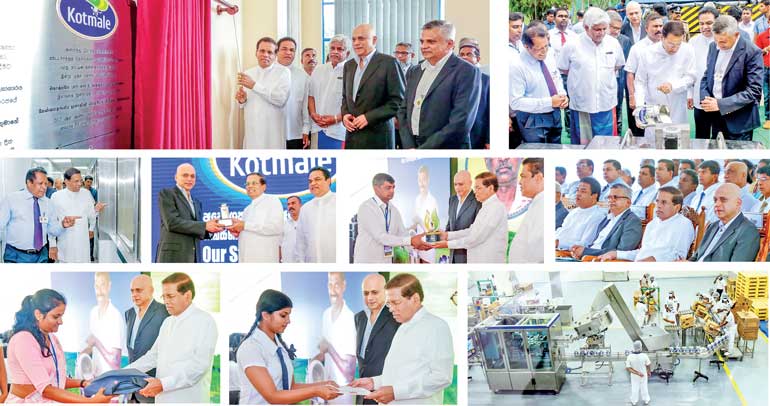 The Kotmale Integrated Dairy Production Facility was ceremonially declared open by President Maithripala Sirisena on Monday, 3 April. Over 300 dairy farmers and their families representing a farmer base of over 15,000 attended the occasion to witness the commissioning of Sri Lanka's largest multi-product dairy manufacturing plant located in Banduragoda, Gampaha.

Cargills (Ceylon) PLC Deputy Chairman Ranjit Page notes that with a vision to be the most trusted Sri Lankan dairy brand, Cargills' efforts are focused on being among the largest contributors to the national dairy industry. "With the opening of this plant, Cargills salutes the efforts of Sri Lanka's small holder dairy farmers and in turn makes the commitment to help our country achieve self-sufficiency in meeting the nutritional requirements of all Sri Lankans," he said.

"The development of the dairy industry has the amazing potential to impact regional livelihoods, enhance the nutritional intake of our children while also saving valuable foreign exchange for Sri Lanka. Sri Lanka continues to depend on imported milk powder to meet the dairy nutritional needs of our children. Steps taken by the government to encourage dairy farming must be complemented with processing and sourcing capacities and it is our role as the private sector to invest towards long term growth," Page further explained.

Over the last 12 months, Cargills has collected 42 million litres of fresh milk from small farmers, generating a direct income of Rs. 2.8 b for rural Sri Lanka and saving $ 20 million in foreign exchange to the country in the last financial year.

Cargills entered the dairy industry in 2002 through the acquisition of an ice cream facility owned by a multi-national company. This plant that was shut-down at the time of acquisition was transformed to utilise fresh milk; a move that was in tandem with Cargills' philosophy to create value for rural Sri Lanka through business. This facilitated the empowerment of thousands of dairy farmers through commercial scale farming.

Cargills Managing Director Imtiaz Wahid said: "Over the years, Cargills has invested over Rs. 5 b in developing a range of dairy production lines while enhancing infrastructure and logistics support to increase the sourcing of fresh milk from small dairy farmers. A Rs. 3 b dairy expansion project rolled out by us in the last two years has resulted in the development of a full range of dairy products, including UHT milk, yoghurts, drinking and stirred yoghurt, curd, cheese and a substantial increase in ice cream production facilities with the latest technology. The investment also led to the establishment of unique processing and storage capabilities that would allow Cargills to overcome the seasonal fluctuations of milk production, and thereby source the full supply of milk from farmers during gluts and maintain prices during scarcity. "

"Today, our dairy farmer base has exceeded 15,000 with over 125,000 litres of fresh milk collected every day. But our relationship with our farmers extends well beyond a mere transaction to a bond that we have with their livelihoods, to their families, the communities they live in and the schools where their children learn. Cargills has therefore initiated the Cargills Sarubima fund which is used to empower agriculture communities and their children," Page said.

Cargills Sarubima is a fund established by Cargills in 2008 where the Company initiated a concept of giving-back 50 cents for each kilogram of vegetables and each litre of milk purchased from the farmers in the community to be utilized for community empowerment. In 2016/17 the total funds collected exceeded Rs 25 Million resulting in 225 scholarships for farmer children which included 92 University, Pirivena and Vocational education Scholarships, 93 Advanced Level Scholarships and 40 Year 5 Scholarships.

The Cargills Sarubima fund also made possible 49 community development projects across all its dairy and vegetable sourcing communities which included provision of drinking water, water purification projects ,school development, library development as well as certified English and IT centres.

In addition 25 exemplary farmers were recognized for their service to dairy, agriculture and the local community with the Cargills Sarubima Farmer Citizens Award 2016 presented by the President during the opening ceremony of the Kotmale Integrated Dairy Plant.