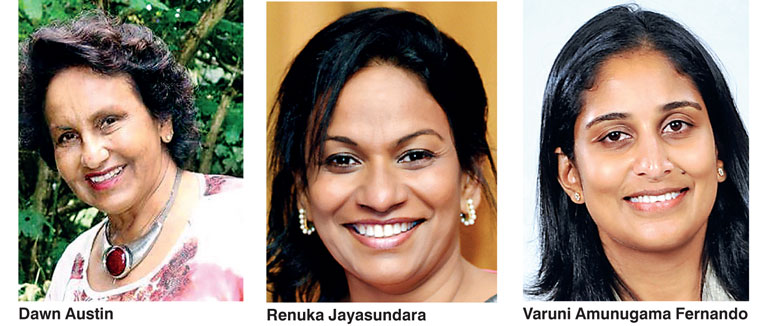 Sri Lanka's top women business leaders have volunteered to mentor MTI's 'idea2fund' women entrepreneurs. In an effort to promote young women to take to entrepreneurship through the 'idea2fund' platform, they have each volunteered to be a mentor to one to two women entrepreneurs who would be selected as having winning entrepreneurial ideas.

These women business leaders include Nidro Lanka Managing Director Dawn Austin, Analytical Instruments Managing Director Renuka Jayasundara and Triad Joint Managing Director Varuni Amunugama Fernando.

All of them successful entrepreneurs in their respective domains, will be providing face to face time plus advisory through email and call for the first six months of the incubation period to the selected women entrepreneurs.

"The 'idea2fund' initiative is timely for this country to promote not only women entrepreneurship but entrepreneurship in general and I'm glad to be dedicating my expertise and time to such an initiative," said Nidro Lanka Managing Director Dawn Austin.

"I believe this platform will be a great motivation for young women to come forward and startup their dreams. I look forward to meeting and mentoring the women business leaders of tomorrow," said Renuka Jayasundara.

"It is my pleasure to become part of 'idea2fund' and offer my learnings and experiences to the future women entrepreneurs of Sri Lanka," said Varuni Fernando.

"This is a great opportunity for Sri Lanka's women entrepreneurs to not only pitch their idea and gain funding but also to learn and live through the knowledge and experiences of some of the most successful entrepreneurs in this country. Would like to take this opportunity to thank Dawn, Renuka and Varuni for showing their support to 'idea2fund'," said MTI Consulting CEO Hilmy Cader.

MTI Corporate Finance is the corporate finance arm of MTI Consulting, a boutique strategy consultancy with a network of associates across Asia, Africa and Middle East. MTI Corporate Finance provides a comprehensive range of services, including due diligence, feasibility studies, funding new businesses or capitalisation of existing ones – from IPOs to private placement facilitation, M&A facilitation, and advisory on governance, compliances and risk management.

To enter, please log on to www.idea2fund.lk.