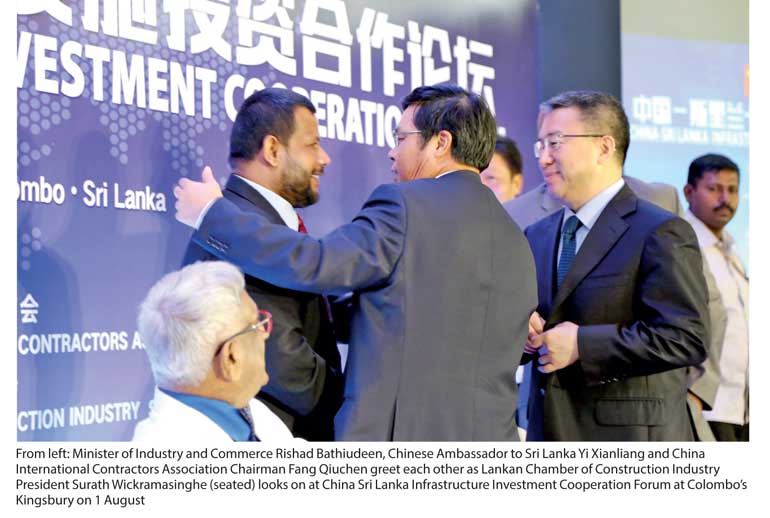 H'tota Port nothing strategic, pure business: Amb Xianliang
Says port's value found in a win-win industry zone
Calls for direct use of Chinese currency RMB in trade with SL
"We are also in Silk Route push": Rishad
Says China 5th largest BoI investor to SL in 2016
SL-China total trade tops $ 4.4 b, YoY up by 11%
A buoyant China has reiterated that the Hambantota Port agreement of last week is not a 'strategic move' on the Chinese side as some see it but only a win-win business proposition with Sri Lanka.

Strongly hinting its keenness for bigger trade engagement with Sri Lanka in future, Chinese Ambassador in Colombo also called for the direct use of Chinese currency RMB, rather than the dollar in its bilateral trade with Sri Lanka. Meanwhile, Sri Lanka promptly ensured that it shall support China's One Belt One Road initiative –saying Sri Lanka was 'very much part of it', on 1 August in Colombo.

"Industrialisation, that is, 'Made in Hambantota' will help Sri Lankan industries and the people," said Chinese Ambassador to Sri Lanka Yi Xianliang, addressing the China Sri Lanka Infrastructure Investment Cooperation Forum at The Kingsbury. Also present were Minister of Industry and Commerce Rishad Bathiudeen, Lankan Chamber of Construction Industry President Surath Wickramasinghe and China International Contractors Association Chairman Fang Qiuchen.

"Chinese President Xi Jinping discussed with Sri Lankan leaders when they visited China in 2015 and 2016 about industrialisation of Sri Lanka. It is quite clear President Xi Jinping would like to assist Lanka to set up a basic industry system. This is quite important for you here, the members of construction industry too. What should we do to finalise the suggestions in the agreements of our leaders? Infrastructure is important for development. Yes, it's easy to talk about infrastructure. But how about the money? SL-China relations more than 1,600 years. Even during the 28-year war, Sri Lanka continued its payments to China and never failed to pay back what it had to pay. Therefore this is a country and people that we can trust. I don't have any worries about Sri Lanka's financial prospects.

"The international community, particularly Chinese Government and Chinese people, wish to see Sri Lanka carrying on its development. Sri Lanka's major infrastructures are okay – airports, sea ports, etc. are fine. But you should have industry zones because your land is limited. You should assemble all industries to one or two zones with support of serious policy and logistics. Prime Minister Ranil Wickremesinghe said he wishes to see multiple industry zones, then I suggested to him to create one or two large industry zones and assemble all industries in these so that it also solves many issues such as industry logistics, etc. I said I can help you with one industry zone in Hambantota which is a win-win for both sides. Therefore financials is not the question," said Xianliang.

He added: "Chinese President Xi Jinping suggested to Lankan leaders to use our currency, the Chinese RMB, in trade and cooperation between China and Sri Lanka – like done in many other countries such as Vietnam; Chinese companies will come back. Last year China-SL trade was around $ 4.3 b. If we can use Chinese currency RMB instead of the Dollar, we can do much more bilateral trade (beyond $ 4.3 b). Last Saturday we signed the Hambantota Port Agreement – it is the way we want, it's a business one with no strategic or security considerations from the Chinese side. We have no idea for a military consideration here. It is just a business idea.

"The Chinese company that constructed the port spent more than a billion dollars earlier and again poured another $ 1.5 b so the total cost for them is more than $ 3 b. Some people asked me whether we are crazy; why spend on the same port again? Even if re-spending, why not spend only around $ 600 m? I told them I am not the person making the decision but it's a business issue between China Merchant and Port Authority of Sri Lanka. But a port is just a port. It is never an industrial zone. I will put all the efforts to push the industrial zone forward. This is also the need of Sri Lankan people. Industrialisation, that is 'Made in Hambantota,' will help Sri Lankan industries and the people."

Bathiudeen addressing the event thanked China for its continued support to Sri Lanka. "We have strong ongoing relations for centuries. Sri Lanka also supports China's One Belt One Road initiative. Sri Lanka is considered to be an important location in this initiative. According to the Board of Investment, last year Sri Lanka received BoI FDIs at $ 801 m. China was the fifth largest BoI-based FDI project investor in Sri Lanka in 2016, investing $ 52 m. Very large-scale Chinese projects are in well-known infrastructure projects such as the $ 1.1 billion Hambantota Port agreement concluded last Saturday and the $ 1.4 billion Colombo Financial City project that began earlier. There are many other Chinese FDI projects in Sri Lanka in textile and apparel, fisheries and manufacturing. Tourism too is another attractive sector since Chinese tourist arrivals to Sri Lanka doubled from year to year. Therefore today I invite the potential Chinese investors at this forum to invest in Sri Lanka and partner with us."

In 2016, more than 271,500 Chinese tourists arrived in Sri Lanka. According to the Department of Commerce, last year Sri Lanka's total bilateral trade with China was $ 4.4 billion, a huge 363% increase in comparison to a decade back in 2007 (at $965 m), and even an 11% annual YoY increase in 2016 – from 2015's $ 4 b.