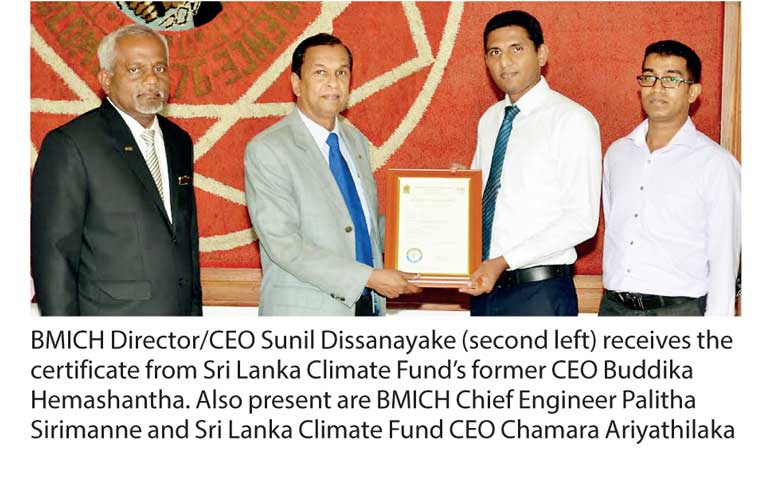 Reasserting its longstanding commitment to the environment, the S.W.R.D. Bandaranaike National Memorial Foundation (BMICH) was recently recognised with the prestigious ISO 14064-1:2006 pollution control certification, awarded by the Sri Lanka Climate Fund.

The ISO 14064-1:2006 certification specifies principles and requirements at organisation level for quantification and reporting of greenhouse gas (GHG) emissions and removals. It includes requirements for the design, development, management, reporting and verification of an organisation's GHG inventory.

Awarded locally by the Sri Lanka Climate Fund, a private-public partnership company under the purview of the Ministry of Mahaweli Development and Environment, this standard was developed in 2006 by the Geneva, Switzerland-based International Organisation for Standardisation (ISO).

ISO is an independent, non-governmental international entity with a membership of 162 national standards bodies. Through its members, ISO brings together experts to share knowledge and develop voluntary, consensus-based, market relevant International Standards that support innovation and provide solutions to global challenges.

BMICH earned this important accreditation through its stringent and careful management of GHG, limiting them to 1472.85 tons of CO2 equivalent emissions across all direct and indirect sources for the period in question.

"We are honoured to be selected as Sri Lanka's first convention and exhibition venue to be awarded the prestigious ISO 14064 certification. The award is a welcome recognition of the BMICH's many initiatives to restrict carbon emissions, ensuring a better future for all Sri Lankans," said a spokesperson.