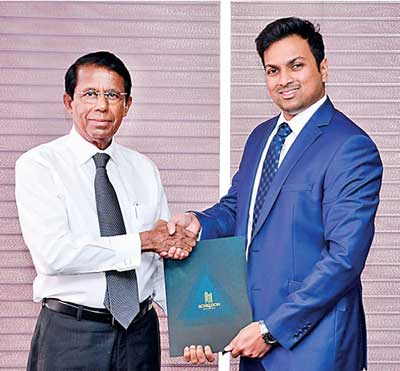 The Blue Mountain Group's latest real estate development venture, Achilleion is set to make a lasting mark on Colombo's skyline as one of the most luxurious and unique apartment complex in Sri Lanka to date.

Adding further assurance of high quality deliverance to the project and cementing the trust placed in them, Blue Mountain Group announced MAGA Engineering as their construction partner for this project. Blue Mountain Group partnering with MAGA Engineering in delivering a project of such magnitude, grandeur and sophistication as Achilleion, in itself stands as a promise of exceptional quality deliverance. The luxury 7-star apartment building will be the first of kind and will feature all-new levels of luxury and innovation.

With the world's tallest stand-alone show apartment which is at 100 feet above sea level, Achilleion has already won three awards including the best 'Luxury Show Apartment' at the prestigious Asia Pacific Property Awards 2016/2017. With its iconic structure set to change the Colombo skylines forever, Achilleion is truly 'luxury redefined'.

Commenting on Blue Mountain's latest partnership with MAGA Engineering, Dr. Hiran Hettiarachchi Group Chairman of Blue Mountain, stated: "This partnership is highly valuable for both the companies as Achilleion is set make a new precedent for luxurious living in the heart of Colombo. We are proud to be working with companies like MAGA that also offer exception quality. Together, we hope to deliver an apartment complex that will be the seat of innovation, sophistication and ultra-modernism combined together."

Synonymous with quality, speed and care MAGA Engineering has been in operation for over three decades, working with an array of stake holders and setting a global bench mark in project delivery and sustainability. As the largest construction company in Sri Lanka, it is driven by a dynamic workforce consisting of over 12,000 employees. They have been recognised internationally for building the world's tallest vertical garden and the first LEED Platinum apparel factory.

Renowned as one of the most reliable real estate companies in Sri Lanka, the Blue Mountain Group has a highly qualified team of experts operating in 16 branches island-wide. The Blue Mountain Apartments have always complied with the highest international standards of construction and safety and joining hands with them in delivering quality results is yet another established industry leader, MAGA Engineering.