The BDO Global Forensics team has been nominated in the 'Investigations Consultancy of the Year' category at the upcoming Global Investigations Review (GIR) Awards.

GIR is a longstanding publication that serves to analyse the law and practice of international investigations. It is published by Law Business Research Ltd – an independent, multi-award-winning publisher of research, data and analysis on international business law and international legal markets.

The forensic accounting practice of BDO Sri Lanka & Maldives is headed by Ashane Jayasekara. Jayasekara is a fellow member of the Institute of Chartered Accountants of Sri Lanka and the Chartered Institute of Management Accountants [UK]. He is a Certified Internal Auditor, a Certified Information Systems Auditor and a Certified Financial Services Auditor. The following are excerpts of his interview.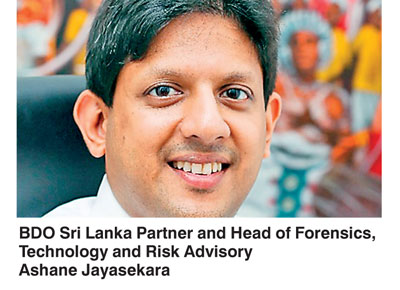 Q: What is forensic accounting?
A: Forensic accounting is the use of professional accounting skills in matters involving potential or actual civil or criminal litigation.


Q: What does a fraud examination entail?

A: Fraud examination refers to a process of resolving allegations of fraud from inception to disposition. It generally involves the tasks of obtaining evidence and taking statements, reporting, testifying to findings and assisting in fraud detection and prevention.



Q: How can a forensic accountant add value to organisations?

A: A forensic accountant can add value to organisations in many ways. For example they can help in developing fraud response plans. Many organisations today do not have a fraud response plan in place.

A fraud response plan outlines the actions that members of an organisation will take when suspicions of fraud have arisen. Because every fraud is different, the response plan should not outline how a fraud examination should be conducted but should help organisations manage their responses and create environments to minimise risk and maximise the potential for success. Forensic accountants could also assist in carrying out fraud risk assessments to ensure that internal controls are in place to mitigate the risks of fraud.


Q: What is the role that the board of directors should play in fraud risk management?

A: Fraud risk management is an integral component of enterprise risk management. Therefore to effectively address the risk of fraud the board of directors should ensure that there is focused consideration of fraud risks through a formal process of oversight by directors.

This oversight can be delegated to the audit or integrated risk management committee. However, discussions about the fraud risk management program design, components and effectiveness should be formally incorporated into the board or committee agenda to ensure adequate attention is given to this risk.

In the absence of effective governance processes companies are more vulnerable to fraud risks. Purposeful and visible fraud risk oversight activities by the board not only set the stage for an internal antifraud culture but also serve to increase confidence among various stakeholders.

In Sri Lanka there is a heightened focus on and decreasing tolerance of fraud and corruption. In view of this it is imperative that companies obtain the services of a forensic accountant to mitigate the risks of fraud.

We're committed to continually looking at ways to expand our offering to become best-in-class and in the forensic accountancy field our target is to be a market leading practice. The forensics team in BDO Sri Lanka has successfully completed many fraud investigations for leading private sector companies and government corporations.

BDO's forensic experts bring substantial forensic accounting expertise and a thorough understanding of both the investigation and litigation processes. Being a member firm of the global BDO network we have access to forensic resources in over 150 countries.