The final symbolic affirmation that the festive season has begun in earnest was made by the Arpico retail chain last week with the lighting up of the characteristic larger-than-life Christmas tree by no less a personage than 'Santa Claus' at the flagship Supercentre at Hyde Park.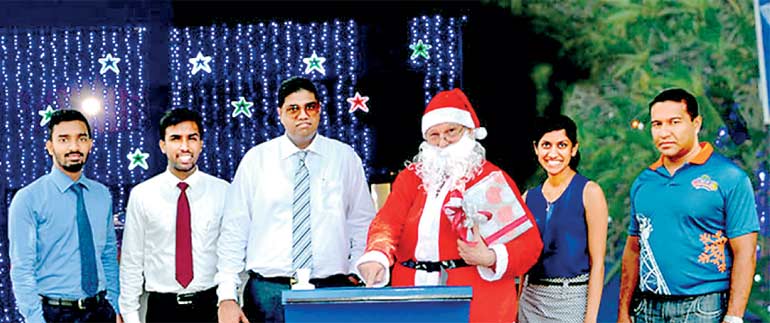 Ceremonial lighting up of the giant Christmas tree and arch at Arpico Supercentre, Hyde Park, by 'Santa Claus' and members of the Arpico team led by Head of Marketing Minodh De Sylva (3rd from left)
The illuminated star-adorned arch that forms part of the exterior décor at the flagship store represents the 'Thrilling Christmas' theme that syncs with the chain's consumer promotion, under which purchases of Rs. 3,000 more qualify 50 families to win all-expenses-paid visits to some of Asia's most exciting theme parks.

Arpico's Christmas transformation goes beyond décor changes, however: this season, the retail colossus has announced special offers on more than 700 products in addition to discounts of up to 25% on daily essentials, electronics and household items, and an extra special 35% discount till 10 January 2016 on daily essentials for purchases via American Express credit cards.

Indulging the seasonal requirements of shoppers, a series of Christmas Specials including seasonal hampers, gift vouchers, seasonal cheeses and meats, festive décor items and imported household items and toys have supplemented the regular offering at Arpico supermarkets around the country.